While our history dates back almost 175 years, Aegon as we know it today was founded in 1983 following the merger of two Dutch insurance companies, AGO and Ennia.
Aegon celebrates 175th anniversary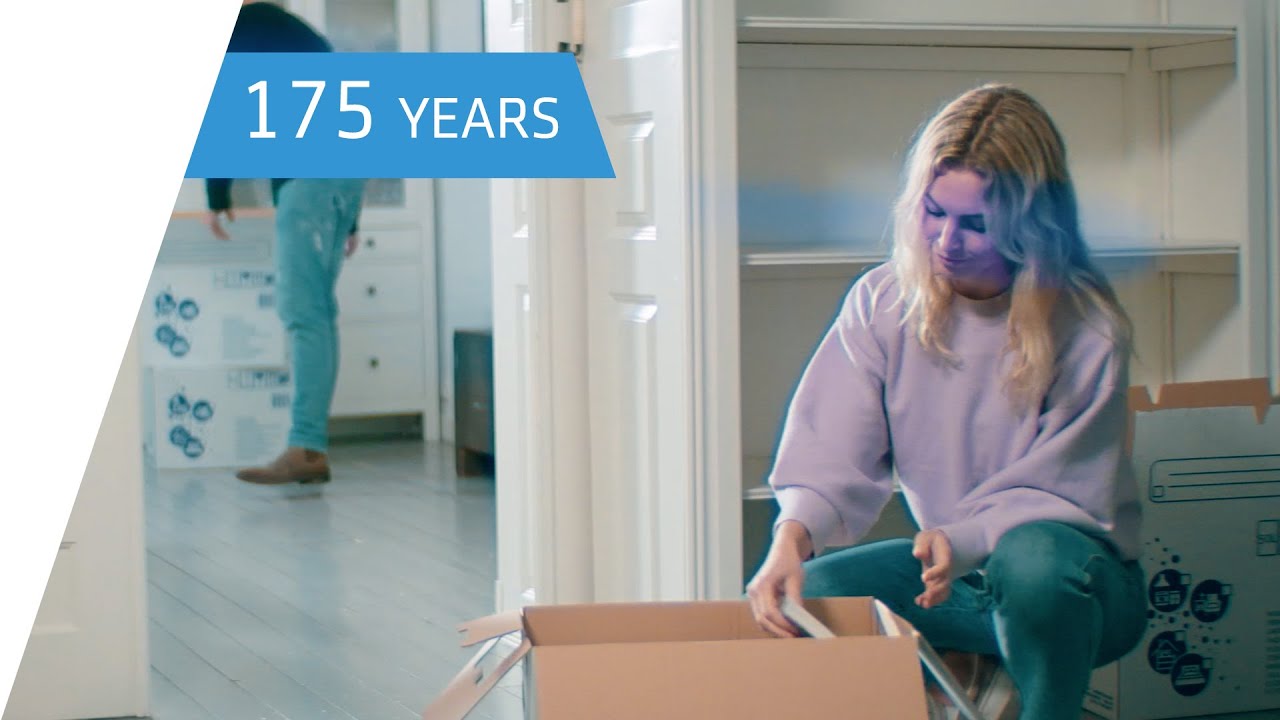 Aegon celebrates its 175th birthday in November 2019 — a perfect opportunity to reflect on how our past, present and future was, is and will be about supporting people together at moments that matter.
A brief history of Aegon
Aegon's roots date back to the first half of the 19th century, but we will tell you about rich history in just 160 seconds.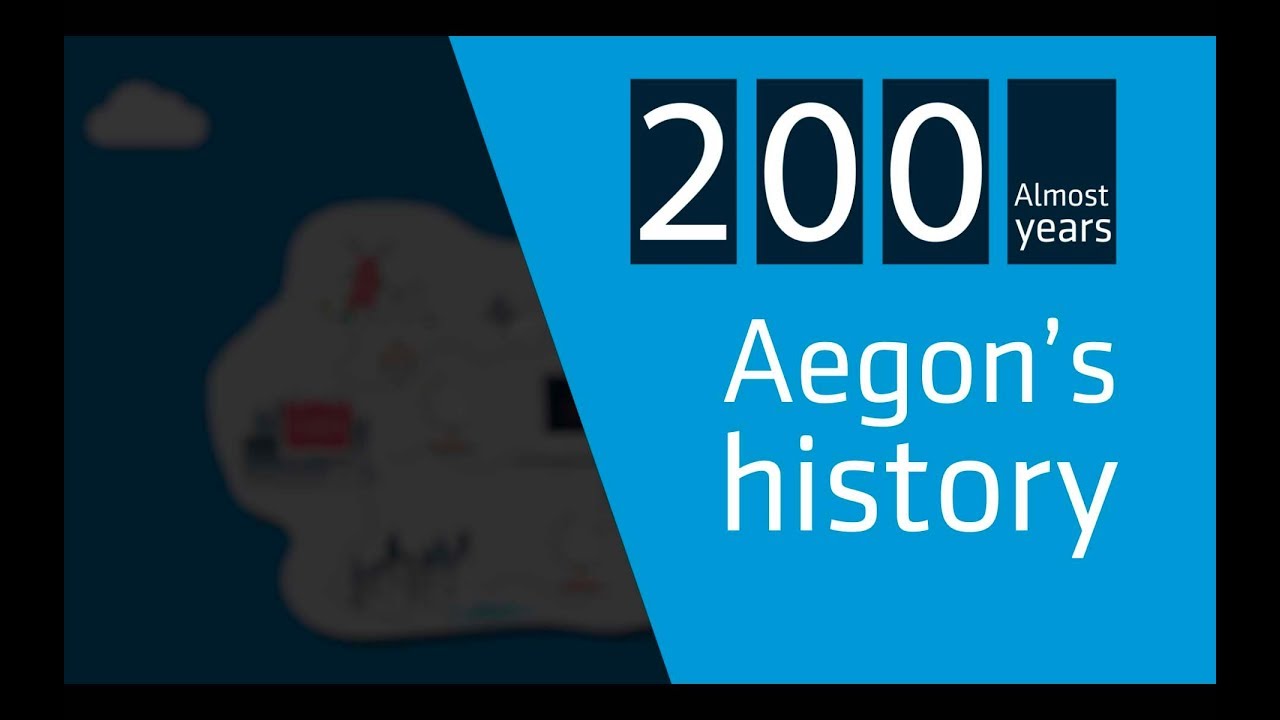 Key periods in our history
Aegon's roots stretch back more than 160 years. At that time, Aegon provided modest funds in the Netherlands for people to arrange burials for their family members and other loved ones.
The oldest of these original companies was Algemeene Friesche, created by two civil servants in the northern Dutch province of Friesland in 1844.
Two others followed in the next decades: De Groot-Noordhollandsche in 1845 and Eerste Nederlandsche in 1882.
Another predecessor, Olveh, was initially formed as a self-help organization for civil servants and white-collar workers. Olveh was incorporated in 1879.
Meanwhile, Nillmij was putting down roots in the Dutch East Indies. Formed in 1859, Nillmij served civil servants and military personnel in the Dutch colony.
But these were simply the largest of the dozens of funeral funds, widows' funds, life insurers, health insurers and other companies and associations that eventually formed the Aegon we know today.
The Dutch insurance sector expanded rapidly in the second half of the 19th century and the early years of the 20th century, driven by strong economic growth and increasing prosperity.
This growth was halted by the outbreak of World War I in 1914, which led to massive disruption across Europe. The years immediately after the war were marked by economic uncertainty, high inflation and rising unemployment. Despite these difficult conditions, the insurance sector again grew quickly.
By 1920, nationwide income from premiums had almost doubled from 1913 levels.
Meanwhile, facing increasingly volatile business conditions in the Dutch East Indies, Nillmij had turned its attention to the more stable Dutch market.
In 1938, Algemeene Friesche and Groot Noordhollandsche announced that they had joined forces in one of just a few mergers to take place during the inter-war years. Both continued to operate under their original names.
The return of war in Europe in 1939 brought more upheaval to the Dutch insurance business. Dutch insurers were forced to hand over property belonging to Jewish investors. After 1945, many families would return to reclaim their property.
The end of World War II in 1945 was followed by period of strong insurance industry growth. In the 1960s a wave of consolidation swept in as insurance companies faced growing competition, a need to control costs and rising inflation.
In 1968, three insurers – Algemeene Friesche, Groot Noordhollandsche and Olveh – joined forces to create a new company called AGO.
A year later, Eerste Nederlandsche, Nieuwe Nederlandsche and Nillmij merged to create Ennia. Between them, AGO and Ennia controlled 20% of the Dutch market. In the following years, AGO and Ennia both expanded their international businesses.
In 1979, AGO bought a stake in the US life insurance company Life Investors and in 1980, Ennia acquired a 85% stake in Spanish insurer Galicia S.A., based in Madrid. One year later, Ennia acquired National Old Line in Little Rock, Arkansas.
In 1983, Aegon was born from the merger of AGO and Ennia. Throughout the 1980s, the company continued its international expansion.
In 1986, Aegon bought the Baltimore-based life insurer Monumental Corp. By June 1988, Aegon had brought its growing US business together under a single roof: Aegon USA, with headquarters in Cedar Rapids, Iowa.
Aegon's international expansion was not confined to North America. The 1980s saw a series of further acquisitions in Europe, particularly in Spain. By 1987, the company was one of the ten largest insurance companies in the country measured by premium income.
In the 1980s, Aegon floated its shares, giving the company its first access to international capital markets, and the vital funding for its continued growth.
Initially listed on the Amsterdam and London exchanges, in 1991, Aegon went a step further and listed on the New York Stock Exchange.
At the time, the flotation was heralded as, "the most important arrival from Holland since Peter Stuyvesant founded New Amsterdam in 1653."
The 1990s was a decade of expansion across three continents, starting in 1991 with acquisition of Regency Life, a UK insurer specializing in unit-linked products and pensions.
In 1993, Aegon began its relationship with Scottish Equitable, acquiring 40% of the company, one of the best-known names in the UK financial services industry.
By 1998, Aegon had taken full control of Scottish Equitable. A year later, Aegon acquired the life insurance operations of Guardian Royal Exchange. The UK business now operates under the Aegon name and is based in Edinburgh.
Central & Eastern Europe
In March 1992, Aegon bought a 75% stake in Állami Biztosító, Hungary's former state-owned insurance company. At this point, Hungary and the rest of the region was emerging from decades of Soviet domination. Állami Biztosító's former Budapest office is now Aegon's regional headquarters for Central & Eastern Europe.
Asia
Aegon set up a greenfield operation in Taiwan in 1993. Over the next few years, the company strengthened its position in Taiwan, which played a significant role in helping Aegon expand into Asia. By the time Aegon closed its Taiwan business in 2009, the company had expanded into China and Japan.
In July 1999, Aegon acquired Transamerica, one of the best-known insurers in the United States, and a company with a rich history of its own.
Transamerica's History
Transamerica's history dates back to 1904, when Amadeo Giannini founded the Bank of Italy in San Francisco, California.
The bank served the working class residents of the city, including many Italians living in the North Beach neighborhood. The bank survived the San Francisco earthquake and fire of 1906 and was one of the first to offer loans to businesses to help rebuild the city.
After years of expansion, the Bank of Italy merged with the Bank of America in the 1920s. The bank assumed the name of Bank of America.
In 1930, Giannini acquired a major insurance company, Occidental Life Insurance, through a holding company he named Transamerica. Occidental had been founded soon after Giannini's Bank of Italy – in 1906, also on the West Coast.
The Transamerica Pyramid
After decades of expansion, Transamerica commissioned architect William Pereira to design a new headquarters in San Francisco. The Transamerica Pyramid was completed in 1972, and remained San Francisco's tallest building until it was surpassed in height by construction of the Salesforce Tower (opened January 8, 2018).
Transamerica's headquarters are no longer in San Francisco, however the Pyramid is still owned by Aegon and remains an integral part of Transamerica's logo.
Aegon acquired Transamerica in 1999. It was the largest purchase ever made by a Dutch company overseas and the second largest in the US insurance industry.
Transamerica operates under its own brand name in North America, and remains one of the most-familiar names in the American insurance industry.
Today, Aegon is a multi billion euro company, employing over 31,500 people in more than 20 countries across the globe. In 2015 we became one of the worlds top-10 largest insurance companies.
Aegon in Central & Eastern Europe
In 1992 Aegon bought a majority stake in Hungary's former state-owned insurance company, Állami Biztosító.
In 2013 Aegon took over Eureko's life insurance and pension business in Romania.
Aegon in the Americas
The first decade of the new century also saw Aegon form two joint ventures in Latin America: Argos Aegon in Mexico and Mongeral Aegon in Brazil. Ranked by market share for individual life insurance, Argos Aegon is now the 9th largest life insurance company in Mexico. Mongeral Aegon, is targeting a top-five position in the Brazilian life insurance market.
In 2015, Aegon sold its Canadia operations to Wilton Re, as the business did not fit with the companies strategic goal of being a leader in its chosen markets.
In 2017, asset management company, Akaan Transamerica received formal approval from the Mexican Banking and Securities Commission (CNBV) to initiate operations in the Mexican market.
Aegon In Asia
Between 2003 and 2014, Aegon operated a joint venture with the China National Offshore Oil Company, known as AEGON-CNOOC. In July 2015, Tsinghua Tongfang became Aegon's new joint venture partner in China and the company was renamed Aegon THTF.
Headquartered in Shanghai, the company has established 11 branches across China. The joint venture provides comprehensive life insurance products and services, and has recently also successfully launched health and life protection products.
In 2008, Aegon expanded in Asia with the launch of its Aegon Religare Life Insurance Company joint venture in India. In 2015, amended legislation on foreign direct investment in India enabled Aegon to increase its share in the joint venture to 49%. At the same time the company was renamed Aegon Life. In 2009, Aegon entered the Japanese market with joint venture Aegon Sony Life.
Aegon In Western Europe
In 2013, Aegon Ireland (Variable Annuities) opened their first office in Germany. We will market variable annuities as flexible pensions in Germany where there is significant market potential. Surveys show that Germans aged between 55 and 80 currently hold assets of over 900 billion euro.
In 2013, Aegon entered a 25-year exclusive distribution partnership with Banco Santander in Spain, Spain's largest financial group, with over 4,000 branches. In 2014, this successful partnership was extended to Portugal.
2015 brought the sale of Aegon's 35% in La Mondiale Participations in France, and the forming of a new long-term strategic Asset Management joint venture with La Banque Postale. As a result products will be distributed through La Banque Postale's network of approximately 17,000 points of sale, online and by its institutional sales team.