3Q 2017 Results | AEX:AGN | NYSE:AEG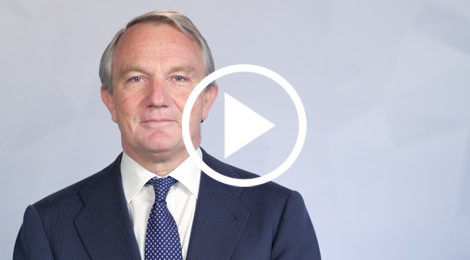 Net income increases by 31% driven by US
Underlying earnings up by 20% to EUR 556 million reflecting favorable claims experience, higher fee revenue as a result of favorable equity markets, and lower expenses in US
Gain from fair value items of EUR 159 million driven by positive real estate revaluations and hedging gains in US
Charge from assumption changes and model updates of EUR 198 million caused by conversion of the largest block of universal life business to a new model
Higher underlying earnings, fair value items and realized gains drive increase in net income to EUR 469 million
Return on equity for the quarter increases to 8.9%
Record gross deposits driven by fee-based business; outflows from contract discontinuances in Mercer block
Gross deposits increase by 65% to EUR 41 billion as a result of exceptionally strong asset management and UK platform deposits; net outflows of EUR 0.6 billion driven by lapses on retirement business acquired from Mercer
New life sales decline by 8% to EUR 202 million due to lower sales in US and exit from UK annuities
Accident & health and general insurance sales down by 17% to EUR 180 million from lower sales in US
Market consistent value of new business increases by 75% to EUR 121 million benefiting from management actions
Strong increase in Solvency II ratio to 195%
Solvency II ratio increases by 10%-points compared with last quarter to 195%. Capital generation and benefit from divestment of UK annuity book more than offset interim 2017 dividend
Capital generation of EUR 809 million including favorable market impacts and one-time items of EUR 485 million
Holding excess capital temporarily decreases to EUR 0.9 billion driven by capital injection into Dutch business
Gross financial leverage ratio improves by 20 basis points sequentially to 29.2% as a result of retained earnings
"I am pleased that our underlying earnings are up for the fifth consecutive quarter, reflecting growth across our businesses, expense savings and management actions taken to improve returns.
"We are also reporting strong net income, despite charges related to assumption changes and model updates. These were mainly driven by the completion of the conversion of our largest block of universal life business in the US to a new, more dynamic model. This effectively concludes the first phase of our model enhancement and validation program covering all high impact models identified when the program started in 2014.

"Our strong capital position is a clear highlight this quarter, with a significant increase in the group's Solvency II ratio to 195%, which is now at the upper end of the target range. This enables our businesses to operate from a position of strength and underpins our target to return EUR 2.1 billion of capital to shareholders over the period 2016 to 2018.

"The record gross deposits we generated this quarter were driven by our key growth areas, such as asset management and our digital platforms.
"By adapting to the evolving needs of our customers, we are becoming more relevant throughout their lives. This puts us in a strong position for continued growth, and gives me confidence that we are taking the right steps to achieve our ambitions."

All comparisons are against the third quarter of 2016, unless stated otherwise.
Aegon launches mutual fund joint venture in Mexico
Robot processes customer requests to improve administrative efficiency in Dutch business
Aegon Asset Management receives top ratings for responsible investment
Launch of mobile- and user-friendly global careers site
Aegon's ambition
Aegon's ambition is to be a trusted partner for financial solutions at every stage of life, and to be recognized by its customers, business partners and society as a company that puts the interests of its customers first in everything it does. In addition, Aegon wants to be regarded by its employees as an employer of choice, engaging and enabling them to succeed. This ambition is supported by four strategic objectives embedded in all Aegon businesses: Optimized portfolio, Operational excellence, Customer loyalty, and Empowered employees.
Optimized portfolio
Aegon has joined forces with Administradora Akaan to create the mutual fund company Akaan Transamerica in Mexico. Akaan Transamerica recently received formal approval from the Mexican Banking and Securities Commission (CNBV) to initiate operations and go to market. It will offer a wide variety of Mexican and international mutual funds, as well as diversified global investment solutions, including alternative investments, actively- and passively-managed funds, and bespoke investment strategies. Akaan Transamerica will leverage the extensive investment knowledge and experience from Transamerica Asset Management's highly skilled team of investment management professionals.
Aegon the Netherlands has entered into a four-year strategic partnership with UK online lending platform Funding Circle. Direct loans will be provided to small businesses online, with initial plans to help approximately 2,600 small businesses with funding of GBP 160 million in its first year of the partnership. Using data analysis, Funding Circle is able to assess a company's prospects and provide an immediate response about a possible loan. The partnership offers Aegon strong returns, while enabling small business owners to grow their businesses with transparent funding.
In the Netherlands, Aegon has entered into a strategic partnership with Dynamic Credit, an Amsterdam-based alternative fixed income asset manager. Under the agreement, Aegon will become a 25% shareholder of Dynamic Credit. With over EUR 8 billion of assets under management, Dynamic Credit aims to serve its customers by matching savings with credit investments. As part of the partnership, Dynamic Credit's innovative LoanClear platform will be upgraded and extended into an investment hub for loans from marketplace lenders.
On November 1, 2017, Aegon announced the successful completion of the sale of Unirobe Meeùs Groep (UMG) to Aon Groep Nederland for EUR 295 million. The transaction is consistent with Aegon's strategic objective to optimize its portfolio across its businesses and is expected to result in an increase of the Solvency II ratio of Aegon the Netherlands by an estimated 6%-points in the fourth quarter of 2017. The divestment will also lead to a book gain of approximately EUR 180 million, which will be reported in Other income.
On September 22, 2017, Aegon completed the Legal & General Part VII transfer related to the divestment of the UK annuity book as announced last year. The completion led to a 2%-points uplift of the group solvency ratio. This transfer completes the divestment of Aegon's own annuity book in the United Kingdom and is a further milestone in the company's transformation.
Aegon received approval from the Polish Financial Supervision Authority to take over the management of Nordea's second-pillar pension fund. The takeover of the management of Nordea's pension fund in combination with Aegon's existing fund will result in the fourth largest second-pillar pension fund in Poland, with approximately EUR 3.5 billion of net assets and 1.9 million pension customers. The larger pension fund will benefit from economies of scale and improved investment opportunities, and will share best practices for pension administration.
Operational excellence
In the Netherlands, Aegon is now utilizing a robotic process to handle customer requests to change addresses or bank account details for products that have recurring premiums collected. Every day, Aegon receives more than 100 such requests, which previously meant manually updating information across various systems. By using Robotics Process Automation (RPA), 95% of all requests can be automatically completed, with no manual intervention from employees. The RPA can process these change requests quickly, with a notification automatically sent to customers informing them the change has been completed. Aegon is examining other opportunities to utilize the RPA technology to streamline processes across its business.
Customer loyalty
Aegon's Chinese joint venture unveiled Zeus, an industry-leading digital platform for agents, at the company's Digital Day. The system, which is specifically designed for individual agents, improves customer experience, and enhances traditional sales, underwriting and administration processes.
Empowered employees
Management Board member Mark Mullin, responsible for Aegon Americas, was appointed Chairman of the Board for the American Council of Life Insurers (ACLI), the most prominent association representing the life insurance industry in the United States. The ACLI represents 95% of all industry assets in the United States, and advocates on policy matters in federal, state and international forums. Mark joined the Board of Directors of the ACLI seven years ago, and has been active in advocating on behalf of the industry for the retirement enhancement and savings act and the Department of Labor fiduciary rule.
Aegon launched a new global careers site that enables potential employees to identify career opportunities across Corporate Center, Asset Management, Aegon Global Technology, the Netherlands and Transamerica in one easy to use site. The site has a number of new features to help direct top talent, including videos and testimonials from current Aegon employees, an overview of the work environment, company history and other information relevant to potential employees.
Underlying earnings before tax
Aegon's underlying earnings before tax increased by 20% compared with the third quarter of 2016 to EUR 556 million. This increase was largely driven by a significant improvement in underwriting results, higher fee revenue, expense savings and favorable expense items. Favorable claims experience, favorable expense items in the United States, and positive one-time items amounted to EUR 33 million.
Underlying earnings from the Americas increased by 22% to EUR 376 million. A significant improvement in claims experience, higher fee revenue from favorable equity markets and lower expenses more than offset weakening of the US dollar. Lower expenses resulted from favorable expense items of approximately EUR 20 million and expense savings as part of the five-part plan. Favorable claims experience this quarter of EUR 21 million was mainly driven by seasonality in supplemental health claims. The current quarter also included a EUR 13 million negative adjustment to intangible assets from lower reinvestment yields.
Underlying earnings from Aegon's operations in Europe increased by 17% to EUR 177 million. Higher fee revenue due to favorable equity markets, an improvement in underwriting results in all regions and a EUR 5 million reserve release in the Dutch non-life business more than offset lower investment income in the Netherlands due to prepayments and interest rate resets on mortgages.
Aegon's underlying earnings in Asia more than doubled to EUR 14 million. This increase was primarily driven by the non-recurrence of charges related to reinvestment yields in the High-Net-Worth (HNW) businesses, and favorable persistency in China.
Underlying earnings from Aegon Asset Management declined by 7% to EUR 30 million, as expense reductions were more than offset by lower performance and management fees as a result of lower asset balances due to a contract loss and the divestment of the majority of the run-off businesses.
The result from the holding declined by EUR 6 million to a loss of EUR 41 million, caused by higher project related expenses.
Net income
Net income increased by 31% compared with the third quarter of last year to EUR 469 million, as higher underlying earnings, fair value items and realized gains more than offset an increase in other charges driven by the conversion of the largest block of universal life business in the United States to a new model.
Fair value items
The gain from fair value items amounted to EUR 159 million. Positive real estate revaluations in the Netherlands and United States, hedging gains in the United States, and a positive result on the guarantee provision in the Netherlands together more than offset losses in the United Kingdom and the Netherlands on hedges in place to protect Aegon's capital position.
Realized gains on investments
Realized gains totaled EUR 135 million, and were mainly related to the sale of an equity investment in the United States, and gains on bonds to optimize the general account investment portfolio in the United Kingdom following the divestment of the annuity book.
Impairment charges
Net recoveries amounted to EUR 4 million and reflect the continued benign credit environment.
Other charges
Other charges amounted to EUR 233 million mainly as a result of the net impact of assumption changes and model updates of EUR 198 million. In the United States, these were mainly caused by the conversion of the largest block of universal life business to a new model. The model allows for modeling policyholder behavior and other assumptions on a policy by policy basis. These charges were partly offset by the net positive impact of assumption changes and model updates in the Netherlands and Asia. The remaining other charges were driven by the impairment of intangibles related to the announced sale of Aegon Ireland of EUR 36 million and integration and restructuring expenses of EUR 21 million. These were partly offset by other items, including an expense reserve release related to the divested annuity business following the completion of the Legal & General Part VII transfer.

Run-off businesses
The run-off businesses reported a loss of EUR 3 million, which was in line with expectations following the sale of the majority of the run-off businesses in the second quarter of this year.
Income tax
Income tax amounted to EUR 149 million, which implies an effective tax rate for the third quarter of 24%. The effective tax rate on underlying earnings was 26%.
Return on equity
Return on equity increased by 120 basis points compared with the same quarter last year to 8.9% as a result of higher net underlying earnings.
Operating expenses
Operating expenses increased by 1% compared with the third quarter of 2016 to EUR 909 million as a result of acquisitions in the United Kingdom and an increase in integration and restructuring expenses. Excluding the impact of these acquisitions, and integration and restructuring expenses, operating expenses decreased by 3% on a constant currency basis. This decrease resulted from favorable expense items of approximately EUR 20 million and expense savings. Aegon is well on track to implement EUR 350 million of expense savings by year end 2018 as part of its plans to improve the return on equity. Initiatives to reduce expenses have led to annual run-rate expense savings of approximately EUR 170 million since the beginning of 2016.
Sales
Aegon's total sales in the third quarter of 2017 were up by 53% to EUR 4.5 billion. This strong increase was the result of a 65% increase in gross deposits to EUR 40.7 billion, primarily driven by exceptionally strong asset management deposits and strong institutional platform sales in the United Kingdom, which can fluctuate. Asset management gross deposits benefited from a large mandate win by Aegon's strategic partner La Banque Postale Asset Management (LBPAM), and increased sales in China and the Netherlands. The latter reflects continued strong sales in the Dutch mortgage fund and the inclusion of the first inflows from general pension fund Stap, for which Aegon carries out the fiduciary management. Net outflows amounted to EUR 0.6 billion, as high asset management inflows and increased inflows on the platform in the United Kingdom were more than offset by net outflows in the Americas as a result of contract discontinuances in the retirement business acquired from Mercer, in line with earlier guidance.
New life sales declined by 8% to EUR 202 million, which was mainly caused by lower term life and indexed universal life sales in the United States as a result of Aegon's focus on profitability, and lower sales following the exit from UK annuities. This was only partly offset by strong growth in Central & Eastern Europe, particularly in Turkey, and growth in Spain & Portugal, which was driven by the joint ventures with Santander.
New premium production for accident & health and general insurance decreased by 17% to EUR 180 million. Product exits and lower supplemental health sales in the United States more than offset higher travel insurance sales. Travel insurance sales are expected to reduce significantly as of the first quarter of 2018 as part of the earlier announced strategic decision to exit the Affinity, Direct TV and Direct Mail distribution channels.
Market consistent value of new business
The market consistent value of new business (MCVNB) increased by 75% to EUR 121 million. The benefit from management actions and higher interest rates more than offset the exclusion of mortgage sales from the MCVNB calculation, the exit from UK annuities, and lower life and accident & health sales. No MCVNB is recognized on the majority of gross deposits, particularly institutional inflows in the United Kingdom and Asset Management.
Revenue-generating investments
Revenue-generating investments remained stable compared with the end of last quarter at EUR 816 billion. The takeover of the management of Nordea's second-pillar pension fund in Poland and the favorable impact from higher equity markets were offset by net outflows and adverse currency movements.
Capital management
Shareholders' equity declined by EUR 0.3 billion to EUR 20.1 billion on September 30, 2017, as retained earnings were more than offset by weakening of the US dollar. Shareholders' equity excluding revaluation reserves and defined benefit plan remeasurements decreased by EUR 0.2 billion to EUR 16.9 billion – or EUR 8.04 per common share – at the end of the third quarter. The gross leverage ratio improved by 20 basis points to 29.2% as a result of retained earnings.
Holding excess capital decreased temporarily to EUR 0.9 billion following an injection of EUR 1 billion into Aegon the Netherlands to strengthen its capital position. Holding expenses, the payment of the cash portion of the interim 2017 dividend and other items led to cash outflows of EUR 224 million. These cash outflows were partly offset by a EUR 357 million dividend from the United States, and EUR 20 million from Asset Management. The redemption of EUR 500 million senior unsecured notes on July 18, 2017, was offset by the issuance of EUR 500 million 1-year senior notes at 16 basis points yield on August 30, 2017.
In October 2017, Aegon's subsidiary in the United Kingdom upstreamed GBP 131 million to the group based on its strong capital position and funded from the capital release related to the divestment of its annuity portfolio. Aegon UK expects to pay an additional dividend later in the fourth quarter, which will bring the total 2017 capital upstream to the group to GBP 150 million. Aegon expects to receive additional dividends from other subsidiaries, including from the United States, in the fourth quarter. The capital upstreamed by the units will more than offset the expected cash outflows from holding expenses and the share buyback announced on September 28, 2017 to neutralize the dilutive effect of the 2016 final and 2017 interim stock dividends.
Capital generation
Capital generation of the operating units amounted to EUR 809 million for the quarter. Market impacts and one-time items of EUR 485 million mainly related to model changes in both the Netherlands and the United Kingdom as well as model changes related to currency risk at the group. All major model changes have been approved by Aegon's college of supervisors. The benefit from separate account derisking as part of the capital plan for the Netherlands was offset by the negative impact from a model conversion in the United States. The model changes in the Netherlands and United Kingdom, and the model conversion in the United States will not have a material recurring impact on capital generation going forward.
Solvency II ratio
Aegon's Solvency II ratio increased from 185% to 195% during the third quarter, as capital generation including market impacts and one-time items (+10%) and the completion of the Legal & General Part VII transfer related to the divestment of the UK annuity book (+2%) more than offset the accrual for the interim 2017 dividend, which was announced in August (-3%).
Semi-annual reporting
With effect from 2018, Aegon will report half-year and full-year results, and no longer publish quarterly results. Reporting dates will be made available on the financial calendar.