1Q 2017 Results | AEX:AGN | NYSE:AEG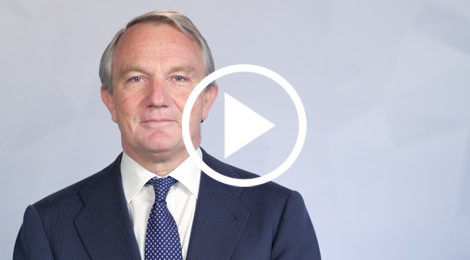 Underlying earnings up 6% driven by US expense reductions and higher fee income
Underlying earnings of EUR 488 million reflect the benefit of expense reductions in the US and higher fee income as a result of favorable equity markets, partly offset by seasonally adverse mortality experience
Fair value items of EUR (53) million due to losses on hedges in place to protect the capital position
Net income increases strongly to EUR 378 million mainly from improved fair value items
Return on equity amounts to 7.2%
Continued strong sales and improved margins

Record revenue-generating investments of EUR 847 billion following Cofunds acquisition and favorable markets
Gross deposits increase by 13% to EUR 34 billion due to first time inclusion of Cofunds; net outflows of EUR 6.0 billion driven by loss of asset management contract related to previous Guardian divestment
New life sales declined by 8% to EUR 246 million, as lower sales in US and NL were partly offset by higher sales in Asia
Accident & health and general insurance sales up 5% to EUR 300 million driven by disability insurance sales in NL
Market consistent value of new business increases 30% to EUR 172 million benefiting from higher interest rates
Solvency II ratio stable at 157%

Solvency II ratio unchanged at an estimated 157%, as capital generation offset the Cofunds acquisition and accrual for the final 2016 dividend
Capital generation of EUR 0.5 billion including favorable market impacts and one-time items of EUR 0.2 billion
Holding excess capital decreases by EUR 0.1 billion to EUR 1.4 billion driven by funding and operating expenses
Gross leverage ratio improves by 40 basis points to 29.4% as a result of retained earnings
"I am pleased with the continued earnings momentum that we are seeing as a result of our ambitious expense savings program and the increased contribution from our growing fee-based businesses.
"Our group Solvency II ratio remained stable at 157%. At the same time, we recognize the need to further increase our capital buffers in the Netherlands. We are committed to maintaining a solid solvency position in our Dutch unit by improving the risk profile, optimizing the portfolio and providing group capital support. We will provide a comprehensive plan on the Dutch capital position and the progress on management actions when we release our second quarter results.
"I am confident that the actions we are implementing will enable us to successfully execute our strategy and accelerate growth across all our businesses through the shift towards new business models. The repositioning of our UK business – as reflected in this quarter's increased earnings, deposits and assets – is a great example of how we are transforming our business and creating value for our shareholders."

All comparisons are against the first quarter of 2016, unless stated otherwise.

Aegon's Dutch Mortgage Fund 10th best-selling European investment fund
Transamerica receives 2017 Digital Edge 50 award for digital transformation
Aegon the Netherlands launches artificial intelligence tool to identify fraudulent claims
Aegon's High Net Worth business launches new Universal Life Alpha product
Aegon's ambition
Aegon's ambition is to be a trusted partner for financial solutions at every stage of life, and to be recognized by its customers, business partners and society as a company that puts the interests of its customers first in everything it does. In addition, Aegon wants to be regarded by its employees as an employer of choice, engaging and enabling them to succeed. This ambition is supported by four strategic objectives embedded in all Aegon businesses: Optimized portfolio, Operational excellence, Customer loyalty, and Empowered employees.
Optimized portfolio
Aegon Asset Management's Dutch Mortgage Fund was the 10th best-selling investment fund in Europe for 2016 according to research by the Financial Times. The fund has exceeded EUR 10 billion of invested capital, primarily as a result of investments from Dutch pension funds and insurers. Aegon sees further potential growth for the fund as interest from foreign investors continues to increase, and at present only 10% of total invested capital is from parties outside the Netherlands. The fund was established in 2014 and leverages Aegon's retail mortgage expertise in the Netherlands to provide a long duration asset with an attractive yield.
Operational excellence
Transamerica, Aegon's US subsidiary, was named a 2017 Digital Edge 50 award winner for its Enterprise Marketing Analytics Platform (EMAP). The award recognizes 50 organizations from across the globe for digital transformation initiatives that have had a significant and measurable business impact. EMAP brings together more than 750 million data records from internal and external sources to create a single holistic view of the customer relationship. The 360‑degree view enables Transamerica to connect with customers throughout different life stages and thereby deliver an enhanced customer experience by providing targeted and tailored offerings. The new data-driven capabilities of the analytics platform are continuing to lead to further product and customer innovations across the organization.
In the first quarter of 2017, Transamerica implemented a voice biometrics system called Transamerica Voice Pass. This enables retirement plan customers to use their voice as a password instead of a numeric password. Voice authentication is safer, faster and more secure than traditional authentication methods, and the system will be rolled-out to other business lines in the course of 2017. Optimization of business models and significant digital modernization through a more efficient use of technology and outsourcing capabilities are important elements of the five-part plan aimed at increasing the return on capital for its business in the US.
Since its launch in October 2016, the Blockchain Insurance Industry Initiative B3i has gained broad acceptance across the industry. Ten additional (re)insurance companies have joined the initiative, giving it a truly global scope. In total there are now 15 members covering Asia, Europe and the Americas. Aegon – as one of the founders of B3i – is committed to working collaboratively with other members to explore the potential for distributed ledger technologies to increase efficiencies in the exchange of data between reinsurance and insurance companies. Preliminary results of the initiative are expected to be released in June 2017.
Customer loyalty
Aegon the Netherlands is introducing artificial intelligence in order to help identify fraudulent insurance claims. The technology utilizes an algorithm that is capable of quickly identifying which claims are most likely to be fraudulent. These claims are then transferred to Aegon's claims handling team for follow-up to determine whether they are entitled to a payout. Based on feedback from the claims handling team, the algorithm continues to learn and adapt to new forms of fraudulent claims on a daily basis. The algorithm enables the claims handling team to prioritize work, which ensures genuine claims are paid without delay to customers. As the new technology continues to develop it will be rolled out to other product lines within Aegon Netherlands, as well as across Aegon's other businesses around the world.

On March 31, 2017, Aegon's High Net Worth business in Asia, which operates in Hong Kong and Singapore, launched its new Universal Life Alpha product. Alpha was designed with Asia's new generation of High Net Worth individuals in mind, reflecting their shifting mind-set and wealth management priorities towards liquidity and returns. Aegon designed the product to be simpler than previous universal life products, eliminating features that are rarely utilized. Alpha has improved existing product disclosures and enables further product education making it one of the most customer-friendly universal life products available.
Empowered employees
In 2016, Aegon employees volunteered more than 23,350 hours in their communities around the world. All Aegon employees are allowed and encouraged to take paid time off in order to volunteer at a charity or organization of their choosing each year. On April 21, 2017, over a thousand Aegon employees took part in this year's Global Volunteer Friday which builds on previous volunteer initiatives in the United States and in the Netherlands. Each event gives employees an opportunity to select from a variety of volunteer opportunities that best aligns with their personal skills and interests. Volunteering is just one way that Aegon is empowering its employees to make a difference in the communities in which they do business in.
Underlying earnings before tax
Aegon's underlying earnings before tax increased by 6% compared with the first quarter of 2016 to EUR 488 million. The increase was largely driven by expense reductions in the United States, higher fee income as a result of favorable equity markets, higher earnings in Asia and a strengthening of the US dollar. This more than offset lower investment income in the Netherlands and increased holding expenses. Adverse claims experience and one-time items totaled EUR 47 million in the first quarter of 2017.

Underlying earnings before tax from the Americas increased by 10% to EUR 313 million. On a constant currency basis, earnings increased by 7%, as the benefits from expense savings and higher fee income as a result of favorable equity markets more than offset EUR 26 million adverse mortality experience and EUR 24 million one-time items. One-time items consisted of a negative adjustment to intangible assets from lower reinvestment yields of EUR 11 million and a one-time charge of EUR 13 million to better reflect the timing of the payment of trail commissions.

Underlying earnings before tax from Aegon's operations in Europe of EUR 169 million were stable. Higher fee income in the United Kingdom due to favorable equity markets and a EUR 2 million one time result from a contract loss related to the previous Guardian divestment more than offset lower investment income in the Netherlands due to prepayments and interest resets on mortgages.

Aegon's underlying earnings before tax in Asia increased from nil to EUR 12 million. This increase was mainly due to higher earnings from the High Net Worth (HNW) businesses and China, as well as a EUR 2 million one time cash dividend received on investments.

Underlying earnings from Aegon Asset Management declined by EUR 8 million to EUR 37 million, as lower expenses were more than offset by lower performance fees compared with last year's exceptionally high level.

The result from the holding declined by EUR 8 million to a loss of EUR 44 million partly driven by higher project related expenses.
Net income
Net income increased from EUR 143 million to EUR 378 million. This increase reflects higher underlying earnings and realized gains as well as an improvement in fair value items.
Fair value items
The loss from fair value items amounted to EUR 53 million, as positive real estate revaluations in the Netherlands were more than offset by negative fair value changes on hedges in place to protect Aegon's capital position.
Realized gains on investments
Realized gains totaled EUR 76 million, and were mainly related to the sale of sovereign bonds in the Netherlands.
Impairment charges
Net impairments of EUR 11 million reflect the continued benign credit environment.
Other income
Other income of EUR 6 million includes a profit resulting from the transfer of annuity production written in the United Kingdom in 2016 to Rothesay Life. Restructuring charges of EUR 14 million in the United Kingdom and the United States were largely offset by income related to policyholder taxes with an equal offset in Aegon's income tax line.
Run-off businesses
The result from run-off businesses increased by 9% to EUR 31 million due to a one-time benefit in the BOLI/COLI business.
Income tax
Income tax amounted to EUR 159 million, which implies an effective tax rate for the first quarter of 30%. The effective tax rate on underlying earnings was 28%.
Return on equity
Return on equity decreased by 10 basis points to 7.2% in the first quarter of 2017, as higher underlying earnings before tax were offset by an increase in the effective tax rate.
Operating expenses
Operating expenses were stable compared with the first quarter of 2016 at EUR 983 million. Acquisitions in the United Kingdom and strengthening of the US dollar offset expense reductions. At constant currencies and excluding the impact from these acquisitions, expenses declined by 3%.
Sales
Aegon's total sales increased by 11% to EUR 3.9 billion in the first quarter of 2017. This was mainly the result of an increase in gross deposits to EUR 34.0 billion. Gross deposits were up by 13% driven by higher UK platform deposits as a result of the Cofunds acquisition. Cofunds deposits were included for the first time this quarter and added EUR 6.3 billion. This more than offset lower asset management flows and a decrease in deposits in the Americas. The latter was the result of fewer retirement plan takeover deposits, reduced demand for variable annuities, and last year's exceptionally strong level of mutual fund deposits. Net outflows amounted to EUR 6.0 billion and were mainly driven by the loss of an asset management contract in the United Kingdom related to the previous Guardian divestment.

New life sales declined by 8% to EUR 246 million. Lower term life and indexed universal life sales in the United States, and lower sales in Europe were partly offset by strong sales in Asia as a result of the successful launch of a new critical illness product in China. Indexed universal life sales are expected to benefit in the second half of 2017 from various initiatives that are currently being implemented. Lower sales in Europe are mainly due to the divestment of the UK annuity book and lower pension sales in the Netherlands, as a result of the continued shift in demand from defined benefit to defined contribution solutions. New premium production for accident & health and general insurance increased by 5% to EUR 300 million due to favorable currency movements, and higher disability insurance sales in the Netherlands following product launches in response to new legislation.
Market consistent value of new business
The market consistent value of new business increased by EUR 39 million to EUR 172 million. The benefit from higher interest rates and strong sales in China more than offset lower pension sales in the Netherlands, as well as lower margins on pension products and the sale of the annuity business in the United Kingdom. No market consistent value of new business is recognized on Cofunds deposits.
Revenue-generating investments
Revenue-generating investments were up by 14% to EUR 847 billion. This increase was primarily driven by the acquisition of Cofunds in the United Kingdom, while higher equity markets more than offset net outflows.
Capital management
Shareholders' equity increased by EUR 0.6 billion to EUR 21.5 billion on March 31, 2017 driven by retained earnings and the impact of market movements on the remeasurement of defined benefit plans and revaluation reserves. Shareholders' equity, excluding revaluation reserves and defined benefit plan remeasurements, increased by EUR 0.2 billion to EUR 17.6 billion – or EUR 8.59 per common share – at the end of the first quarter, as net income more than offset unfavorable currency movements in the quarter.

The gross leverage ratio improved by 40 basis points to 29.4% as a result of the positive impact of this quarter's net income. On July 18, 2017, Aegon will redeem EUR 500 million senior unsecured notes. Pro forma for this redemption, Aegon's gross financial leverage ratio reduces to 27.9%.

Holding excess capital decreased by EUR 0.1 billion to EUR 1.4 billion, of which EUR 500 million has been earmarked for the aforementioned redemption of senior notes. The decrease mainly resulted from funding and operating expenses.
Solvency II
Aegon's Solvency II ratio remained stable at an estimated 157% during the first quarter, as capital generation offset the impact of the acquisition of Cofunds and accrual for the final 2016 dividend which is payable in June.

Capital generation of the operating units amounted to EUR 0.5 billion for the quarter. Market impacts and one-time items amounted to EUR 0.2 billion, and mainly related to positive credit spread and interest rate movements in the Netherlands. The benefit from a reserving methodology change for the HNW business in Asia was largely offset by non-admissibility of deferred tax assets in the United States. Capital generation of the operating units excluding market impacts and one-time items amounted to EUR 0.3 billion in the first quarter of 2017.

On April 5, 2017, the European Insurance and Occupational Pensions Authority (EIOPA) published an updated methodology to derive the Ultimate Forward Rate (UFR). If approved by the European Commission, this methodology will lead to a lowering of the UFR from 4.2% to 3.65% in steps of maximum 15 basis points per year from 2018 onwards. In response to this change and pending the review of assumptions underlying Aegon's factor for the loss absorbing capacity of deferred taxes (LAC-DT) of 75% in the Netherlands, Aegon decided to downstream EUR 100 million from the Dutch holding company to enhance the capital position of its main Dutch life insurance subsidiary in the first quarter of 2017 instead of remitting it to the group. Aegon is committed to further increasing the capital buffer of its Dutch unit through decisive management actions, including improving the risk profile, optimizing the portfolio and providing group capital support.