100 percent for Transamerica in the 2018 Corporate Equality Index
November 10, 2017, 0:00 CET
Transamerica, Aegon's North American subsidiary, has earned 100 percent in the Human Rights Campaign Foundation's 16th annual scorecard for lesbian, gay, bisexual, transgender and queer (LGBTQ) workplace equality.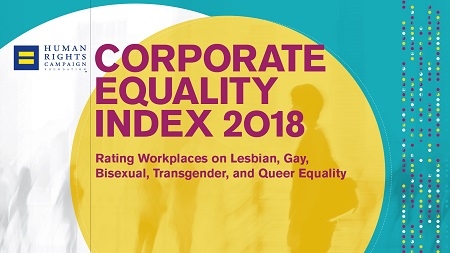 Launched in 2002, the Corporate Equality Index (CEI) was the first internationally recognized benchmarking report for businesses to gauge their level of LGBTQ workplace inclusion against competitors. It aims to promote the adoption of LGBTQ-specific practices and language within existing business structures.
Competitive edge
Referring to top scoring companies like Transamerica, Chad Griffin, President of the Human Rights Campaign Foundation says, "It's no surprise that many top-scoring businesses are also top-performing businesses. They know that creating inclusive workplaces and communities, where their employees can thrive, is an investment in their own competitive edge."
"I'm thrilled to work for a company that places such importance on workplace equality," said Julie Tschida Brown, Transamerica's chief human resources officer. "Achieving a perfect score on the CEI is an honor and it illustrates Transamerica's continued commitment to its diversity and inclusion endeavors."
The 2018 CEI rated 947 businesses in the report, which evaluates LGBTQ-related policies and practices including non-discrimination workplace protections, domestic partner benefits, transgender inclusive health care benefits, competency programs and public engagement with the LGBTQ community. Transamerica's efforts in satisfying all of the CEI's criteria resulted in the 100 percent ranking and the designation as a Best Place to Work for LGBTQ Equality.