Faces of Aegon: Ishmara Gumbs, Finance Project Manager
September 28, 2018, 7:00 CEST
Ishmara Gumbs joined as Finance Project Manager in the Financial Reporting team, based at Aegon's Corporate Center in The Hague, in August 2017. As part of our Faces of Aegon series, Ishmara reviews her first year in the role and outlines the opportunities she sees for career growth.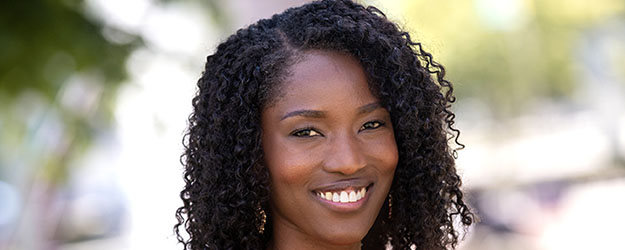 I was born on Aruba, a Caribbean island which is an autonomous part of the Kingdom of the Netherlands. Having studied in New York and Brazil, I moved to the Netherlands to obtain my Masters in Finance and Investment from the Erasmus University in Rotterdam in 2012.
Having decided to stay in the Netherlands, I started my career in the oil and gas sector. My work was finance driven, ranging from  business control to financial analysis and risk management. Though I was primarily based in The Netherlands, I also worked in the UK and Scotland.
I've always been open to change and love to explore new opportunities. So, after five years, I decided it would be good to try another career opportunity in my chosen field of finance. The opening at Aegon for Finance Project Manager, published on LinkedIn, appealed to me. I then had a very pleasant  discussion with the recruiter. The process moved quite quickly after that.
From my perspective, there are no language barriers at Aegon. Coming from Aruba; I'm used to living in a multilingual environment. Dutch, English and Spanish are widely spoken on the island, with Papiamento being the native language. The corporate language at Aegon is English, though international employees at Corporate Center are offered Dutch lessons.
In terms of diversity, I can see that Aegon is open and pursuing opportunities to expand diversity at junior and mid-level management. Considering our global, though, I think that there is always room for improvement and I think the company acknowledges that too and is taking steps for us to become even more international and inclusive.
The role
As a Finance Project Manager, I work for Group finance and support stakeholders across different functions and organizations in Aegon, looking at all annual reporting activities. The main focus of my role is to ensure Group finance presents a concise and accurate message to Aegon management, regulators and investors.
The Annual Report provides Aegon management and external stakeholders an insight into our status quo, future opportunities and business developments. That might range from investment or divestments of business or products, to the way we engage with and support our customers. Being part of this process allows me to connect with colleagues not only across the Group but also across our businesses in Europe, Asia and the Americas, and from the support team all the way to senior management.
Three things about working at Aegon
There are three keys things financial job applicants should know about Aegon. Firstly, it's a multinational company. We actively operate in many European markets, in Asia and in the Americas. Secondly, there is a healthy work-life balance at Aegon, and the company is doing a good job in maintaining and enhancing this balance further. Of course there are peak moments for crucial deliverables in Finance, but there is a healthy balance between on and off seasons.

And thirdly, we are informal and we work with an open-door policy. The flex-desking culture fosters this, making it a pleasant environment to work in. There is definitely room for further career growth here in the Netherlands, to rotate to one of the local businesses, and to work across the Group to get a helicopter overview of Aegon's business.

Outside of work, I am passionate about education and equal rights. While living in Brazil, I volunteered at a local school providing English language courses. In Morocco, where I lived for a year, I gave English and Spanish language classes and volunteered at a local institution focused on the empowerment of women.