A sense of purpose
February 01, 2018, 21:02 CET
Larry Fink, Chairman and CEO of BlackRock, the world's largest asset manager and an important Aegon shareholder, recently wrote to Alex Wynaendts and other CEOs to share his thoughts about how to achieve sustainable, long-term growth.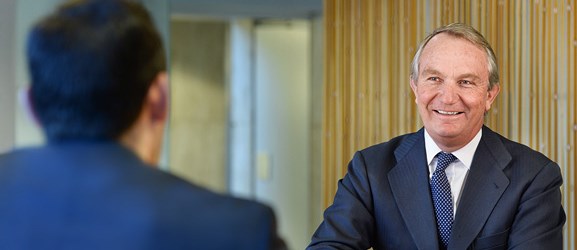 Many of the issues raised in his letter resonate with Aegon – from having a clear sense of purpose, to being a responsible company and investing accordingly.

In his reply, Alex addresses the following issues, which we would like to share with you.

Having a sense of purpose
A sense of purpose must be central to everything we do. Aegon has defined this as "helping people achieve a lifetime of financial security". The word "people" was carefully chosen, because although our biggest impact on society is by providing our customers with financial security, we also have a broader role to play: towards our employees, our communities, the wider society we operate in, and our planet.

Focussing on the long term
We focus on the long term, as companies must balance longer-term strategic objectives and shorter-term execution targets. We presented both of these in January 2016, when we launched our 2020 strategy. At that time, we provided clear three-year financial objectives, and shared our goals to transform our company. We recognize our need to deliver on these financial targets to generate resources and to maintain market credibility, but that transformation is vital to ensure a sustainable future for our business.

We aim to be relevant to our customers at all major life events, and with our business partners to offer financial solutions across their life cycle. This customer proposition requires new business models, state-of-the-art digital technology and strong data analytics capabilities. To drive this transformation, we are making major investments in leadership and capabilities, and restructuring our businesses.

Our company's role in society
We aim to be a responsible company in all that we do. Like any company, we sometimes make mistakes, but we do everything we can to learn from them. Increased longevity, combined with more sober social security provision and increased individual responsibility for retirement savings, have created a strong link between financial security and well-being. We have therefore stated a new ambition to be a trusted partner for prosperous and healthy lives.

In the US, we are launching our 'Wealth+Health' campaign to drive actions that promote financial security and healthy lifestyles. We are also stepping up our work on retirement readiness and healthy ageing through the Aegon Center for Longevity and Retirement and the non-profit Transamerica Institute.

Being a responsible investor
We are a large investor and our group-wide approach to Responsible Investment, launched in 2010, focuses on the integration of Environmental, Social and Governance (ESG) factors in our investment processes, and on engagement with companies that do not meet our standards.

In addition, we are increasingly concerned about the risks that climate change poses to our world. While our primary duty is always to meet our financial obligations and fiduciary responsibility, we are also actively pursuing investments that make a bigger contribution to the energy transition and improvement to the environment, which our planet clearly needs.