Aegon calls for a new blueprint for retirement
Experts at the Aegon Center of Longevity and Retirement (ACLR) call for a new social contract for retirement.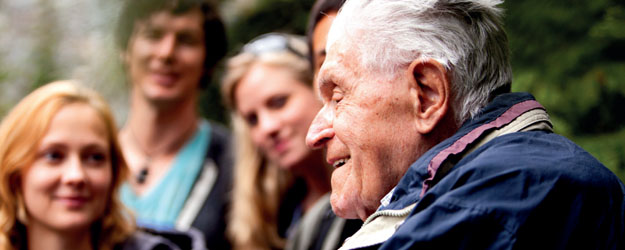 Join the debate by following the hashtag #TheNewSocialContract
The Hague (the Netherlands) – Experts at the Aegon Center of Longevity and Retirement (ACLR) call for a new social contract for retirement. The 2018 Aegon Retirement Readiness Survey report - entitled The New Social Contract: a blueprint for retirement in the 21st century - outlines how the traditional three pillar retirement system – made up of governments, employers and individuals – is in many countries crumbling due to megatrends such as reductions in government benefits, increased life expectancy, volatility in financial markets, changes in labor markets, and prolonged low interests rates.
The new social contract addresses the need for a realistic distribution of responsibility in how people fund and prepare for retirement while ensuring that the necessary tools, resources and infrastructure are provided. 
"In a world where almost half of today's workers and retirees believe that future generations will be worse off than those currently in retirement, it is clear that the current social contract is ill-equipped to prepare society for the changes taking place and those yet to come" says Mike Mansfield, Program Director at ACLR. "We believe there is a compelling case for a new social contract that leaves no one behind, and we are urging all social partners to work together to help make this a reality".
Nine essential design features of the new social contract
Sustainable social security benefits that serve as a meaningful source of guaranteed retirement income and avoid risk of poverty among retirees.
Universal access to retirement savings arrangements for employed workers, and alternative arrangements for the self-employed and people who are not in the workforce due to parenting, caregiving or other responsibilities.
Automatic savings and other applications of behavioral economics in retirement-related products and services that make it easier for people to save and invest.
Guaranteed lifetime income solutions in addition to social security benefits. Education for individuals to strategically plan how to manage their savings to avoid running out of money.
Financial education and literacy is imperative so that people can make informed financial decisions. It must be part of the educational curriculum so that young people learn the basics of budgeting, investing and managing their savings.
Lifelong learning, longer working lives and flexible retirement to help people to stay economically active longer and transition into retirement on their own terms – with adequate financial protections if they are no longer able to work.
Accessible and affordable healthcare to promote healthy aging. Governments play a vital role in overseeing healthcare systems. Employers should provide healthy work environments and consider offering workplace wellness programs.
A positive view of aging that celebrates the value of older individuals and takes full advantage of the gift of longevity.
An age-friendly world in which people can 'age in place' in their own homes, and live in vibrant communities designed for people of all ages that promote vitality, health, productivity, and economic growth.
Who should be involved?
Governments should take center stage in orchestrating retirement systems in their countries that ensure that everyone, especially at-risk segments of the population, is included. Employers should help by offering workplace retirement savings benefits to employees. Individuals should take on a more proactive role in 'owning' their retirement security. Finally, new social partners such as academics, think tanks, industry, charities and NGOs should work more closely in public-private collaborations to share expertise, innovate, and implement solutions.
Let's talk
Read the findings of the Aegon Retirement Readiness Survey 2018 and join the debate by following and using the hashtag #TheNewSocialContract and let us know what you think.
About the survey
Since 2012, the Aegon Center of Longevity and Retirement has carried out the largest global retirement survey of its kind. The findings in the 2018 report are based on interviews with 14,400 workers and 1,600 retired people in 15 countries: Australia, Brazil, Canada, China, France, Germany, Hungary, India, Japan, the Netherlands, Poland, Spain, Turkey, the United Kingdom, and the United States. Conducted in cooperation with Transamerica Center for Retirement Studies® and Instituto de Longevidade Mongeral Aegon. The findings will be presented on May 29, 2018 at the OECD-Forum in Paris.