Aegon Hackathon 2018: meet the disruptive innovators
September 12, 2018, 13:47 CEST
Over 200 disruptive innovators are converging on Mumbai, Budapest and Dallas on September 20-21 in answer to Aegon's challenge to create the best prototypes to promote Wealth + Health for all.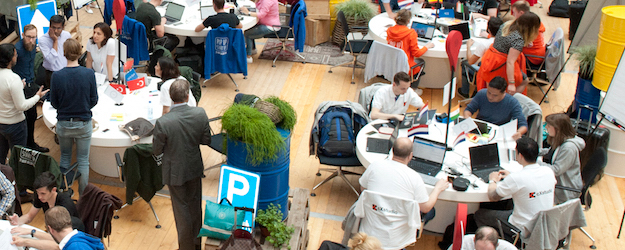 "I'm always looking for innovative digital solutions, and the hackathon is a good place to try out new technologies," says Stephen Foster.
The user experience design and engagement manager at Aegon UK notes that the Wealth + Health theme is crucial for Aegon's customers, and young and older the world over. He is not alone. Many of this year's "hackers" say they signed up because of the opportunity to use their skills to create a wide variety of solutions that address the universal Wealth + Health challenge.

Foster also speaks for many of his peers when he concedes he probably would have signed up to the 2018 edition of the Aegon Hackathon no matter the topic. The rush of taking an idea to presentable prototype in 24 hours is intoxicating. Foster: "I must also be a bit crazy as it was a very draining experience last time".  The hard work certainly paid off at the last Aegon Hackathon in Spring 2017 when Foster's team scooped the top prize with a chatbot called ANNA.
From prototype to a real production
The competition will be even tougher and more global this time around. 230 hackers, divided into 32 teams, are primed for the intense creative, three-country marathon. Creativity is already at fever pitch, though the prototypes will only be unveiled at the finish of the three country events on September 21.
Brian D'Souza, of Aegon Life, is already tri-locating – at least online – as his fellow team members are based in three cities across India. Pooling a mix of business, coding and system testing knowledge, the team mainly connects over weekends to prepare their idea, named, Pooling together for Health & Wealth. "We are really looking forward to completing the various tasks at the Hackathon within a super compressed time frame of 24 hours. And of course, winning!" he says.
"For me, the Aegon Hackathon is a creative outlet. I have always been an idea's person with the heart of an innovator," says Aaron Maldonado of Transamerica. "I enjoy the challenge of creating viable solutions for real needs." Last year, Maldonado took part in the hackathon organized by Transamerica in Denver. This year, his team will compete with an idea called Blueprint.
Joel Koehler, also of Transamerica, is also looking forward to the event in Dallas. "Our hack is the TA Companion, much like an automated brain that is built to always listen, learn and serve up relevant recommendations across all channels of customer engagement,"he says. "The Hackathon is a great opportunity to network, learn more about what is motivating Transamerica as well as a chance to be a part of great innovation that is bringing technology to the intersection of Wealth + Health."
Srivathsan Km of Tata Consultancy Services, is member of a group of experienced hackathon attendees. They are fielding the poetically named project, Transcend Loyalty ... Create Belongingness. As an insurance domain consultant in TCS insurance innovation lab, Kn has been dealing with the wealth and health spaces separately. "I feel the Hackathon has thrown me a challenge to look at health and wealth as intertwined as yin and yang".
Alex Trofim was an external participant last year in the RetentionApp team. This year, he will be an internal participant on Stephen Foster's mostly British team, having joined Aegon Corporate Center at the beginning of July after moving from Romania. "I like the idea of people gathering and putting in an effort to create something that can be developed to help people in different ways. The most exciting thing is that you only have 24 hours to create something, so you don't have months of planning and testing."
Using gamification, Maria Palamara of Transamerica and her diverse team, made up of  TCS, Transamerica employees and students, want to create an app that encourages better wealth and health practices, called Financially Future Fit.
Palamara previously took part in the 2017 Aegon Hackathon and is excited about the next event on September 2021. "I feel empowered having a chance to create something that impacts the world around me, where new ideas are allowed to emerge and imaginations to flourish."
Newcomers
Aegon's innovation fest also attracts hacking "newbies" who are no less keen to do well. For instance, this is the first hackathon for Çağdaş Cebeci of Aegon Turkey. "I've followed this competition for a long time," he says. "To create new ideas and be able to make use of them is really satisfying and exciting." Although he's not had experience hacking he believes his team of analysis specialists, software engineers and idea developers will take home the top prize with their idea, Aegon Empathy.
Ángel González of Aegon Spain, is also new to hackathons, but he is motivated by what he sees as an opening for a new product. His team, named Young Simulator, wants to help people find better ways to save for their family. "There isn't a tool like this in the in the market and it could be viable. I also want to participate in innovation within Aegon Group."
Márton Gombocz and his fellow developer, Attila Salyi, come from outside of Aegon. Yet, the theme also resonated with them. "We talk about disruptive ideas constantly," says Gombocz. "The theme certainly contributed to our decision to join the competition. It was easy to come up with a multitude of ideas since the motto defines two huge and important topics in all of our lives with many areas worth exploring."

Their team came up with three entries and in the end the strongest one was chosen to take part in the event in Budapest. The concept, dubbed Atomic Insurance Marketplace, "offers complete coverage for any risks you can imagine. This idea is one that I believe can disrupt the way people engage and do business with their insurance company."
Gábor Megyeri of Aegon Hungary, an auto insurance product manager. The idea behind his team's, Aegon Health Risk Management App, is to help people focus on prevention and to manage risks. While this is his first hackathon, he brings a lot of conviction and enthusiasm to the table: "I believe that technology should help more and more people to improve the quality of their lives. I still remember my grandparents used to say that all you need is health."
Disruption live
The teams will be doing battle behind closed doors in the three hackathon venues. But they will also be opening a window to the world on their creative processes. You can watch what's happening in Mumbai, Budapest and Dallas via a live stream on Aegon's YouTube channel. 

For a foretaste of the disruptive marathon on September 20-21, check out the video highlights of the Spring 2017 event.