Aegon Hackathon - building on the invention buzz
September 12, 2018, 13:45 CEST
For 24 hours on September 20 to 21, 36 teams of hackers, programmers, designers and dreamers will disrupt and modernize the wealth & health model the world over. Here's a quick explainer for the 2018 edition of the Aegon Hackathon.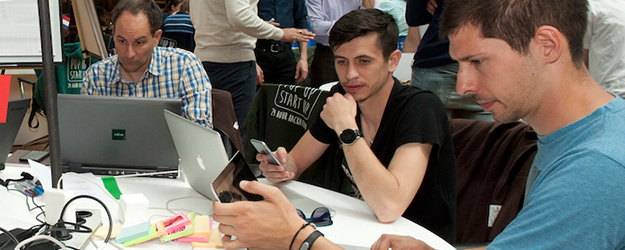 Before talking about what it is, let's first dispel any concerns: your personal and business communications are safe. Rather than trying to break into secure email systems to find other people's information, IT and business creatives attend hackathons because they get a buzz from creating new nifty software and hardware solutions.
Winning is great, the prize money is nice too. But for many hackers the biggest thrill comes from working in a team, competing against the clock and fellow hackers, to develop prototype gadgets that meets a particular need or challenge. 
Hackathons are often described as coding sprints or codefests over a set number of hours or days. The Aegon Hackathon goes one better. 
Launched in 2016, the Aegon Hackathon has in a way already developed beyond the prototype stage when the first events were hosted in The Hague, Budapest and Denver. It now spans three continents, with venues in Mumbai, Budapest and Dallas. The latter venue hosted by Transamerica, Aegon's Americas business and co-sponsor of the event. The other heavyweight sponsors are Microsoft, AWS, Tata Consultancy Services and Deloitte.
For 24 hours on September 20 to 21, 36 teams of hackers, programmers, designers and dreamers will disrupt and modernize the wealth & health model the world over.
Kicking off in Mumbai, the first set of 12 teams will mix future tech and tradition. With the iconic Danube as the backdrop, our second group of 12 teams in Budapest, Hungary, takes on the challenge. European counterparts work tirelessly to bring financial wellbeing.

As the sun sets in the east, dawn breaks on our final city, Dallas, Texas, where the Americas will develop and prototype new ways of working with wealth and Health.
Why a hackathon?
The world is changing rapidly due to digital transformation. In the digital realm, think robotics, Internet of Things (IoT), data intelligence, artificial intelligence and Blockchain. Back in the "real" world change people are living longer. The associated pressure on state-funded pension systems and the rise of individualism to name are just some of the themes reshaping society.
An insurance and pension provider like Aegon – which seeks to provide its customers with a lifetime of financial security – needs to keep pace with this change, and indeed get ahead of the action. The annual Aegon Hackathon is a forum to attract the most creative minds, both inside and outside the organization, to join the transformation.
Wealth + Health
Aegon believes a lifetime of financial security starts with two fundamental ingredients – wealth and health. Both are important to the stability to people's lives and are susceptible to unforeseen events. Disrupting present-day financial and insurance models need bold ideas from individuals willing to rebel against the status-quo.
Programmers, designers, hackers and dreamers, who want to see more than incremental change to wealth and health, have now answered the call and are gearing up for the final push on September 20-21.
"I think the future of any company depends on the focus it has on the customer and using technology to make it a reality," explains project manager for Asia Khevna Shah. "The ideas that we have in the selected teams promise just that – solving a customer problem (existing or anticipated) through technology & use of analytics. These ideas will enable us, at Aegon, to fuel our vision of helping people achieve a lifetime of financial security and taking it further by helping people live a healthier, happier life."