Aegon Hackathon: showcasing the winning Wealth & Health ideas
October 09, 2018, 18:00 CEST
Brimming with innovative ideas and disruptive solutions, a total of 36 teams took part in the 2018 Aegon Hackathon in Mumbai, Budapest and Dallas on September 20-21. Here's a roundup of the winning prototypes that push the boundaries of Wealth + Health.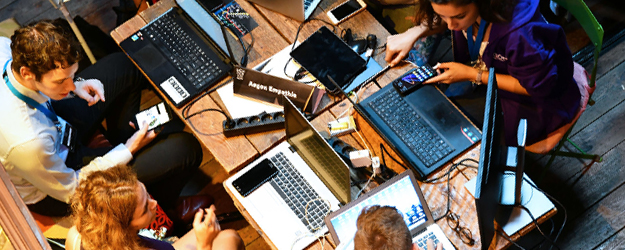 After 24 hours of hacking innovative solutions, testing concepts and preparing for jury presentations, six teams in each of the three Aegon Hackathon locations reached the finals. They then pitched their solutions to a jury, in front of a large audience of Aegon managers, guests and employees.
"We knew that putting teams of the brightest innovators both within and outside of Aegon to the test in a 24-hour marathon was bound to produce some really interesting prototypes dealing with the Wealth & Health theme," said Mark Bloom, Global Chief Technology Officer at Aegon. 
Bloom continued: "I was very energized by the sheer grit, initiative, and determination displayed by the diverse teams of Aegon colleagues and external participants during the events in Mumbai, Budapest and Dallas. They really rose to the challenge and they are all winners for getting this far and for what they produced over the 24 hours."
Why a hackathon?
The world is changing rapidly due to digital transformation. Back in the "real" world people are living longer. The associated pressure on state-funded pension systems and the rise of individualism to name are just some of the themes reshaping society.

An insurance and pension provider like Aegon – which seeks to provide its customers with a lifetime of financial security – needs to keep pace with this change, and indeed get ahead of the action. The annual Aegon Hackathon is a forum to attract the most creative minds, both inside and outside the organization, to join the transformation.

Aegon believes a lifetime of financial security starts with two fundamental ingredients – wealth and health. Both are important to the stability of people's lives and are susceptible to unforeseen events. Disrupting present-day financial and insurance models need bold ideas. 
The co-sponsors of Aegon and Transamerica Hackathon are Microsoft, Amazon Web Services, Tata Consultancy Services and Deloitte.
Investment prize winners
The three-country, 24-hour coding marathon began in Mumbai, and therefore produced the first winners: an all-female group of students from Hyderabad and their solution, the Silent Heart Attack Detector.
The prototype consists of a wearable device that uses sensors to detect heart attacks that have few noticeable symptoms. Such a device could assist Aegon's insurance division to facilitate healthier lifestyles for its customers.
Helping customers become healthier, while creating possibilities for Aegon to sell tailor-made insurances was the idea behind the Aegon Health Risk Management App (AIDA), winner of the investment prize at the Budapest leg of the Aegon Hackathon.
Drawing on artificial intelligence, AIDA is designed to help improve the user's health score by analyzing medical literature and personalizing the results to personal circumstances. The team consisted of a joint group from diagnose.me, a Slovakian health assistance startup, and Aegon Hungary and Aegon Turkey.
The Americas
Three teams won investment prizes at the Americas event in Dallas for their innovative and disruptive ideas.
First prize went to Blueprint, which uses artificial intelligence to assess the impact of a client's chronic illness on financial planning strategies. It also suggests appropriate next best actions that an advisor can forward to the client via the Transamerica mobile app.
The team behind the Workplace Retention and Cross-Sell AI solution secured second place in Dallas. The concept draws on predictive modeling technology to decipher which workplace clients are most at risk and identify the best opportunities for an insurer. 
Third place went to PATH-2-RETIREMENT, a tool that is designed to help individuals visualize how their estimated longevity, as well as various life events, could impact financial planning.
While the main attention naturally goes to the winners, the potential solutions generated by internal colleagues, co-sponsors and external participants also surpassed the organizers' expectations. The other finalists per region, who had the opportunity to present their prototypes in front of the jury, are highlighted below. 
Asia's finalists
Parametric-based insurance powered by Blockchain draws on technologies such as wearables and digital documents. 
Life of Pie uses wearable technology to devise health, financial and emotional scores for holistic life management. 
iCoach is a web and mobile health app designed to help people make healthier, more informed decisions. 
Health Monitoring Device tracks key health indicators and creates an alert if and when those measurements deviate from the norm. 
Unblock Yourself is a mobile application designed for better mental health and wellness by building cognitive flexibility.
Europe's finalists
Voice Controlled Anna created a voice assistant that enables Aegon's customers to access secure services and also provides financial education. 
Smart Friend used key technologies like IoT and augmented analytics to help customers live healthier and happier lives. 
Employee Benefits platform is an online marketplace to engage with employees on health, wealth and financial security. 
BrightLife provides a clear overview of the users' financial status and helps them make the right financial decisions. 
Atos Blockchain Factory helps those working in the informal economy save for their pensions based on their personal preferences.
Americas' finalists 
Nudging Customer Behavior used gamification and data integration. 
Retire Smart & Fit draws on mobile integration, IoT fitness device integration, machine learning and AI personalization. 
Underwriting a healthier life is built around video, image and sensor analyses and data integration.