Escher exhibition attracts over 250,000 art lovers to his hometown
October 30, 2018, 10:32 CET
Dutch graphic artist Maurits Cornelis Escher (1898-1972) labored largely unrecognized for a significant part of his career. This month a museum in Escher's hometown had to stop selling tickets to a major exhibition of his work a week early after attracting a record 256,450 visitors.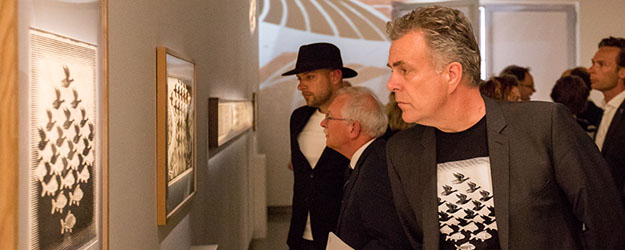 Located in the northern city of Leeuwarden, the museum has witnessed rising demand among the public for Escher's work over the last six months.
Some 25,000 tickets had already been booked when the exhibition, entitled Escher op Reis (Escher's Journey), opened in late April. A month later, the museum marked a new milestone by presenting a real Escher print to a couple who purchased the 50,000th ticket.
The museum extended its opening hours several times over the following months, and all tickets were sold out before the last week of the exhibition. In total, 256,450 art lovers visited the exhibition.
The exhibition

Escher's Journey traced M.C. Escher's path from Leeuwarden resident to his time in Italy, Spain and Switzerland, where he drew inspiration from architecture and nature. The exhibition featured more than 80 original prints, 20 drawings and various photographs and other objects.

Aegon contributed the largest piece on display, called Metamorphose II. "His creativity knew no bounds. The 4 meter tall woodcut is considered one of the highlights of Escher's oeuvre," explains curator of the Aegon Art Collection, Lianne Schipper, "the artwork shows salamanders changing into honeycombs, bees into fish, and the final act of graphics magic is turning all of this into the idyllic, Italian coastal town of Atrani."
Aegon is the main sponsor of the Fries Museum and also sponsored this exhibition, which was part of the celebration of Leeuwarden as European Capital of Culture for 2018.
"The Fries Museum is proud to have been at the heart of Leeuwarden-Fryslân Cultural Capital of Europe 2018 for half a year with Escher," said museum director Kris Callens. "We have succeeded in shedding new light on the world-famous works with a strongly constructed story and with very prominent original prints."
Photo: Ruben van Vliet
Sponsors

Along with Aegon, other sponsors supporting to the exhibition were ING, the Blockbuster Fund, the Mondriaan Fund, the Municipality of Leeuwarden, St. Anthony Hospital, De Haan Lawyers & Notaries, Leeuwarden-Fryslân Cultural Capital of Europe 2018, Provinsje Fryslân and the BankGiro Lottery.
Rembrandt's love story
The Fries Museum's next exhibition, Rembrandt & Saskia: Love in the Dutch Golden Age, opens on November 24. The central theme is the love between Saskia Uylenburgh of Leeuwarden and Dutch artist Rembrandt van Rijn in the 17th Century.