Japan: how to encourage retirement saving in a super-aging society
December 18, 2018, 7:00 CET
Japan is often viewed as a role model in preparing for the transition to a super-aging society. The country is also at the forefront of the universal challenge of how to encourage people to save for retirement.

Key points
People are living and staying healthy for longer in Japan
Japan is seen as a role model in preparing for a "Super Ageing Society"
Japanese individuals feel responsible for their financial preparedness, but often lack the knowledge to fund a long retirement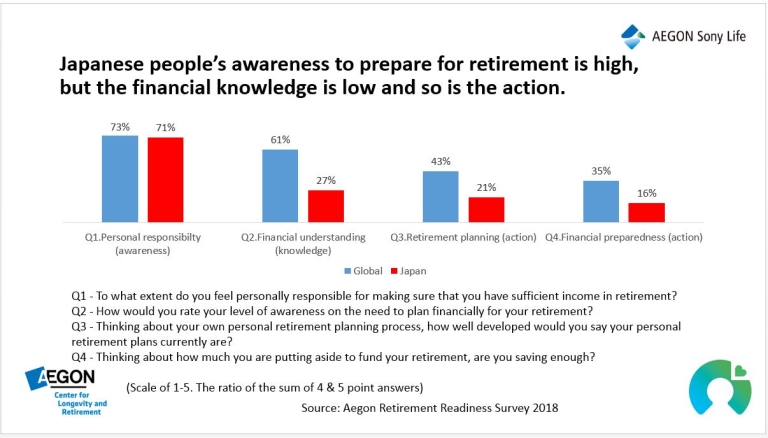 Japan is the world's oldest nation and has the highest estimated life expectancy globally. The World Bank has estimated that girls in Japan today can expect to live to 87 and to 81. In the G7, Japan also has the highest percentage of people over 65 in the workforce (soon 40% of the population will be over 65).

It helps that the Japanese are a healthy people, tending to stay fit and healthy into later life. But as a result Japan is 'greying' at a fast pace, with over 26 percent of its population aged 65 or above. The Japanese Ministry for Health, Labor and Welfare says the country will continue to face major challenges due to demographic aging until at least 2042.
Innovation
The debate on longevity is in full swing, with not an emphasis on the Japanese affinity with the latest technologies. A recent example was a roundtable discussion entitled "The Impact of Innovation Across Technology, Health, Care and Urban Design for Super Ageing Societies", hosted by Japan's Health and Global Policy Institute (HGPI) and the New York-based Global Coalition on Aging (GCOA).
Attendees included Japanese government officials, the Finnish Ambassador to Japan, other US and Finnish embassy officials; university professors from medical faculties and representatives of business sectors including pharmaceuticals, financial services, home care and technology.
The central theme was that Japan's super-aging society is the first of its kind globally, and it will be followed by all countries as they modernize and urbanize over the course of the 21st century.
To this, the HGPI and GCOA adds, "It is worth noting that Japan has been a global leader in advancing scientific research and health policy as well as fostering innovation through the country's renowned technological capability. Therefore, solutions in Japan will be applicable locally as well as offering crucial leading-edge lessons globally and with immediate and urgent need in Europe, China, the U.S. and the rest of the G20 countries."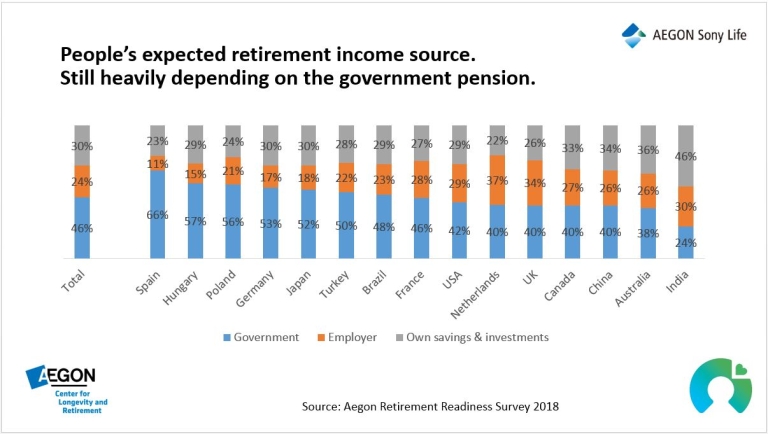 Saving for retirement
Topics during the meeting ranged from town planning to medical issues and how to stay healthy in longer life.
Takaoh Miyagawa, Senior Leader, Corporate Management at Aegon Sony Life in Japan was a thought leader on the topic of financing a long life after retirement.
In common with most countries, the state pension system is under pressure in Japan due to longevity. This is a significant challenge, as Aegon's 2018 Retirement Readiness Survey shows that Japanese people expect over 52 percent of their retirement income to come from the government pension, with another 18 percent coming from workplace retirement benefits.
Japan is at the bottom of the rankings (4.74 out of 10) in the Aegon Retirement Readiness Index.
Japanese respondents expect their personal savings to make up the other 30 percent of their retirement income. But Miyagawa painted a mixed picture in this regard: "We see from our survey that Japanese people are quite aware of the need to prepare for retirement. The problem is that Japanese people in general lack sufficient financial knowledge to invest or save to fund a long retirement," Takaoh said.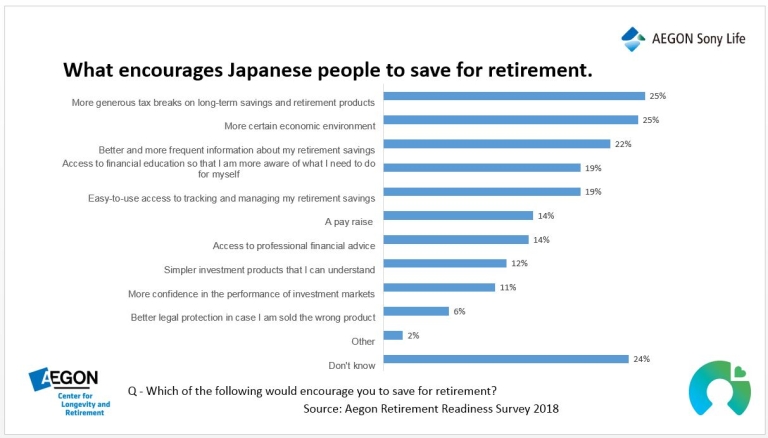 What can be done?
As one might expect, tax breaks and a more certain economic environment were slightly most popular measures (25 percent each) among Japanese respondents when asked about what would drive them to save more for retirement. Takaoh's main recommendation to the meeting was that steps needed to be taken to raise the financial literacy of the Japanese people, and in the survey a strong third place (22 percent) went to 'better and more frequent information about my retirement savings' and 'access to financial education'.
Japan's preparation for the super aging society has many lessons to teach the rest of the world. One of the most important is that continual financial education is essential for a long and prosperous retirement. Another is that working longer and staying productive longer is a good model too, and important for younger generations as they prepare for their longevity.
For more on retirement and Japan, see the global Aegon Retirement Readiness Survey and the Japan country report (in English)