Young leaders: mission to lead positive global change
October 26, 2018, 0:00 CEST
Aegon colleagues were among 1,800 'young leaders' at the One Young World Summit in The Hague to formulate innovative solutions to help solve global issues such as poverty, human rights violations, sexual violence, and to promote sustainable development.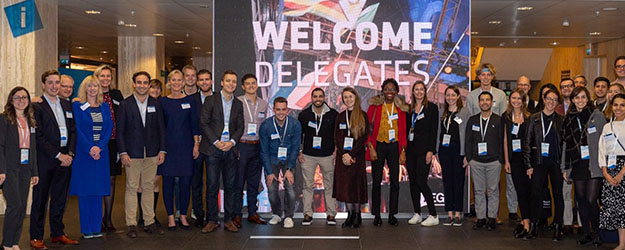 Run by a UK-based charity of the same name, the One Young World Summit seeks to bring together "the brightest young leaders" and empower them "to make lasting connections to create positive change". This support for a better world is summed up by support for the UN-backed 17 Sustainable Development Goals that include no poverty, zero hunger, good health and wellbeing, gender equality and decent work and economic growth.
The annual event draws young delegates, aged 18-30, from companies, NGOs, universities and other organizations. The ninth One Young World Summit, took place in The Hague — seat of the Dutch government — this month with delegates from 193 countries.
"One Young World is all about being inspired by the brightest minds of today and connecting with the brightest minds of tomorrow," said Christiaan Holleboom of Aegon Asset Management. 
Sharing ideas
The Summit blends ideas and experience, as the delegates are addressed and supported by global leaders and seasoned activists of all ages. Famous names attending this year as 'counsellors' included Bob Geldof, the driving force behind the 1985 Live Aid concerts in response to the Ethiopian Famine; Former UK Prime Ministers John Major and Gordon Brown; and, Amber Heard, actress and advocate for women's and children's rights.

While the counsellors were there to help inspire and support the delegates, the responsibility for bringing about change will rest upon the younger generation. "Dare to differ, dare to act", Pauline Krikke, Mayor of The Hague, encouraged delegates during the opening ceremony in which Aegon's Wouter Knecht was the flag-bearer for the Netherlands.
While the counsellors were there to help inspire and support the delegates, the responsibility for bringing about change will rest upon the younger generation.
Aegon's delegation consisted of seven colleagues from Aegon Group, Aegon Asset Management, Aegon The Netherlands and Aegon Turkey.
"The program boasted many well-known speakers, but it was the stories from fellow young people that impressed me most," said Fetze Pijlman of Aegon the Netherlands. "Refugees, survivors of abuse and disabled people shared their experiences. Despite sometimes traumatizing circumstances, they found the power and energy to help others. Very impressive."
Insights and initiatives
Fellow Aegon delegate Knecht described his participation in terms of encountering "new people, new insights and new ideas." Knecht was flag-bearer for the Netherlands during the opening Flag ceremony, which was lead off by a flag representing the 'Refugee Nation'.
Şule Yağcıoğlu from Aegon Turkey was particularly impressed by stories shared by refugees during the Summit. "The refugee crisis is an issue in my home town of Istanbul. Immediately after my return to Turkey, I'm planning to take action to help refugees," she said.
Longevity and aging
An issue highlighted by Aegon during the Summit was longevity and aging. Aegon's booth featured the very popular age simulation suit that enabled delegates to appreciate some of the challenges of aging and the dual importance of wealth and health as people as they move towards retirement age.
And, further underlining its purpose to help people achieve a lifetime of financial security, Aegon played host to 30 One Young World delegates at its headquarters in The Hague to discuss financial self-sufficiency.
The delegates were welcomed by Ingrid de Graaf, board member of Aegon The Netherlands. "One of the reasons I'm proud to work for Aegon is our history. We've been helping people with their finances for almost two centuries, and our team of more than 25,000 employees today serves almost 29 million people around the world," de Graaf said.
De Graaf explained that Aegon has a financial coaching program in which employees support families with severe debts on a voluntary basis. The successful 'From Debt to Opportunity' program involves working together with 17 different social organizations.
"Financial security – for instance having a decent pension and being able to retire with dignity – is something that everyone should have, just like having a roof over your head," De Graaf added.
The 2019 One World Summit takes place in London. Click here for more