Aegon IT innovation wins award for operational excellence
April 17, 2019, 14:59 CEST
Aegon The Netherlands has been awarded a prestigious Celent Model Insurer Award for innovation in its IT processes.

The decision by Aegon The Netherlands to reduce a large number of internal rules for IT solutions to a set of eight clear principles has been rewarded with a Celent Model Insurer Award, in the Operational Excellence category.
The IT Architecture team, headed by Martijn Akse, Lead Enterprise Architect at Aegon The Netherlands, devised so-called 'non-negotiables', a minimal set of compulsory guidelines to be applied when building or purchasing software.
Celent is a New York-based consulting firm focused on financial services technology. The consultancy's Celent Model Insurer awards are presented annually for the best solutions or use of technology in areas that are crucial for success in the insurance industry. The 2019 award winners were announced in April.
Mark Bloom, Group Chief Technology Officer at Aegon: "Congratulations to the Aegon Netherlands IT team for their recent Model Insurer Award from the consultancy Celent. The team was selected for the work they have done on non-negotiable technology principles, which basically define the allowable guard rails or boundaries for the Aegon Netherlands IT teams to operate. Under the leadership of Martijn Akse, the team was in NY last week to receive their award. Well done to the Aegon Netherlands IT team!"
What are non-negotiables?
Akse and Ricardo Schluter of the IT Architecture team came up with the idea for the eight non-negotiables.
"Aegon's IT architecture is comparable to the architecture of a metropolis like New York, and it has to be put together well to ensure it can be trusted. Only then can we help customers well and quickly, innovate rapidly and satisfy to all laws and regulations. Up to three years ago we had a list of about 80 principles on which we tested all our new IT solutions. That was not workable."
One example of a non-negotiable is that developers now have to first check if there are existing software packages that we can work with before going for customization instead. Another relates to data security. Schluter: "Aegon receives a lot of data from customers and they must be able to trust that their data is in safe hands with us. That is why we have, for example, a directive stating that data must be highly encrypted."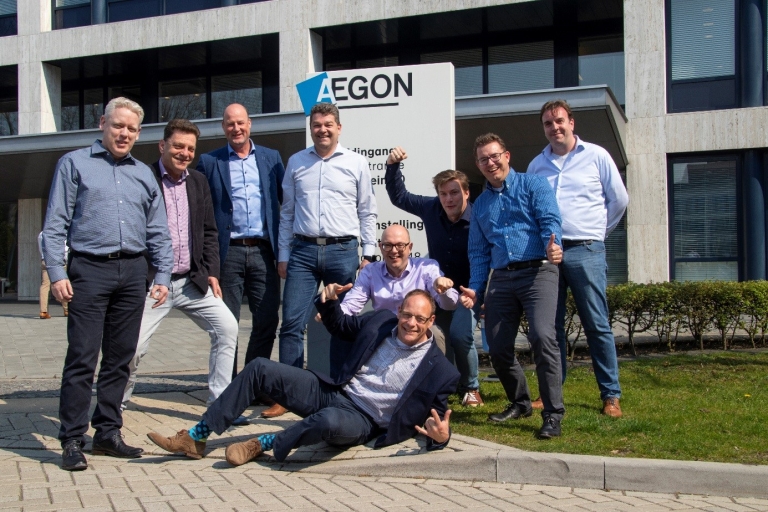 Martijn Akse, Lead Enterprise Architect (left) and the IT-Architecture team of Aegon The Netherlands celebrate the win.