Solidarity is key to unwrapping the gift of longevity
July 12, 2019, 18:09 CEST
Aegon's CEO Alex Wynaendts says solidarity is crucial component in addressing our aging society, along with access to flexible retirement plans, universal health coverage and ongoing education.

People living longer, aging populations, the future of work and flexible retirement were major topics of discussion at high-level events in Paris, Washington and Helsinki recently.
Aegon's purpose — helping people achieve a lifetime of financial security — means it is committed to contributing to the global debate. This contribution is encapsulated in the New Social Contract, a blueprint for work and retirement in the 21st century. The report was launched by Aegon at the OECD Forum in Paris in 2018.
A follow-up report entitled The New Social Contract: Empowering individuals in a transitioning world was released at the OECD Forum in May this year. It emphasizes that longevity has gifted humanity with an extended period of life.
But to truly benefit from this gift, collective action is urgently required to help individuals better prepare for longer working lives and retirement, Aegon CEO Alex Wynaendts told the Silver Economy Forum in Helsinki in July.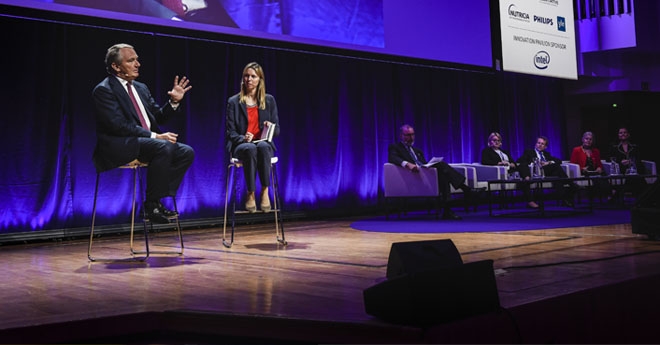 Aegon CEO Alex Wynaendts in discussion with Camilla Cavendish (Photo: copyright Emmi Korhonen / Lehtikuva)
Mr. Wynaendts was commenting during an interview with Camilla Cavendish, a Member of the UK House of Lords, journalist and author of the book Extra Time: 10 Lessons for an Ageing World. He noted that social security, other government benefits, and defined benefit pension plans are under tremendous strain. "Individuals now have to take more responsibility in funding their retirement, although many are ill-equipped to do so."
Mr. Wynaendts called for greater solidarity among social partners in the new social contract to share the costs and pool risks and resources. "There is a need for us all to reconsider how we transition into retirement and we have to reconsider traditional career paths that are based on seniority to the point of retirement," he said.
"We should be open to taking on different jobs at different phases of our lives and talk about moving to a job with less responsibility and less pay for individuals who want to continue working and contributing."
There is plenty of work to be done. Aegon's latest Retirement Readiness Research shows that only three-in-ten workers globally are very/extremely confident that they will be able to retire comfortably. Similarly, just under a quarter of people are very/extremely confident that their healthcare will be affordable in retirement. Two-in-five people feel stressed about their long-term financial plans at least once per month.
To address the challenges, essential design features of the New Social Contract include:
Universal access to retirement savings arrangements
Lifelong learning, longer working lives, and flexible retirement
Accessible and affordable healthcare to promote healthy aging
Greater financial education
Drivers for economy growth
The Helsinki forum was organized by the Finnish government and the Global Coalition on Aging (GCOA), and was centered around the economic potential of older people. 
This is very topical as the European Commission reported recently that the ratio of people aged over 65 to the working-age population will rise within the EU from roughly 30 per cent to over 50 percent by 2070. This increase is largely explained by a sharp increase in people aged over 80.
"Business and government alike have critical roles to play to combat the negative and incorrect assumption that our aging populations around the world are drains on society, but in fact can be become drivers of economic growth and benefits to all of us as we age," said Michael Hodin, CEO of the GCOA.

The Helsinki forum was attended by Aegon and 600+ participants, ranging from government, NGO and business leaders, and watched by over 2,000 people via a live webcast. Christine Lagarde of the IMF and Angel Gurria of the OECD provided video messages. The event followed earlier discussions about The Future of Work at the OECD Forum, and The Future of Work for All Generations Global Summit organized by the American Association of Retired Persons (AARP) in Washington.