Aegon is recognized for inclusion and diversity at work
August 21, 2020, 14:00 CEST
Aegon has achieved its highest score yet in the Workplace Pride Benchmark, while Transamerica - our US business - has been named to the Diversity Best Practices Inclusion Index for the third year in a row.

Aegon has achieved its best result to date in the annual global Workplace Pride Benchmark. The benchmark measures the inclusivity of companies in relation to lesbian, gay, bisexual, transgender, intersex and more (LGBTI) employees, customers, and suppliers.

Aegon scored 82.7% LGBTI+ inclusion in 2020 compared with 70.5% the year before. The overall score is based on the performance in several categories and Aegon scored higher than the average in each.
Workplace Pride compares companies operating in the same sector and of similar size. Aegon's performance is measured again other large financial groups. The report also indicates where participating organizations can improve.
Answers for the benchmark are provided by Aegon Proud. With more than 400 members and a formalized board, Aegon Proud acts as a resource and place of support for LGBTQ+ colleagues, as well as helping raise awareness about LGBTQ+ issues.
Initiatives
Aegon is engaged in ongoing efforts as an organization to create an environment where everyone can bring their authentic self to work. Initiatives include an allyship program, coordinating inclusion and diversity activities with other Aegon countries, a virtual training program to help identify and counter unconscious bias, and ensuring that Aegon's online presence is inclusive.
"We believe a strong commitment to inclusion and diversity contributes positively to Aegon's performance, and increases our attractiveness as a place to work," says Clim Parren, Chief People Officer at Aegon the Netherlands. "Our performance in the benchmark is a confirmation that we're on the right track. We will continue to take steps together to make Aegon even more inclusive."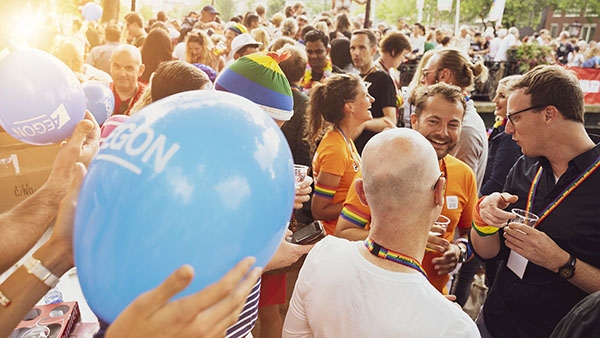 Photo: Aegon colleagues taking part in Pride Amsterdam 2019
Best practices
Transamerica has announced that has been named to the 2020 Diversity Best Practices Inclusion Index in the US for the third year in a row. Aegon's US business was one of only 80 organizations that earned a score of 60 percent or higher in the index.
Now in its fourth year, the index helps organizations understand trends in demographic representation, creates a road map to drive internal change, and identifies solutions to help close any gaps.

Holly Waters, Chief People Officer at Transamerica: "We will continue to learn from our colleagues and our communities to enact the changes we need to make, as individuals and as an organization, so we can do better by our people, customers, and financial professionals."
Click here to read Transamerica's press release on the index