How I challenge finance and math stereotypes for my daughters
There's no better time than the present to #ChooseToChallenge stereotypes for my two young daughters – especially when it comes to finance, math, and science.

Here's a little secret I want to share on International Women's Day 2021: I wasn't such a feminist 10 years ago. But seeing the world through the eyes of my daughters (now 8 and 2), has changed how I teach, buy, read, and ask questions. I've also realized how many stereotypes about money, science, and math my kids are pummeled with on a daily basis.
It seemed only natural that, in our household, I counter those very stereotypes… sometimes pickled with a little dishonesty! I think it's worth it: the aim, after all, is to ensure they feel just as confident about money, science, mathematics, and their future career choices as their peers - who just happen to be boys.
I straight up lie about gender roles. I frequently point out the gender of a pilot, doctor or scientist - in real life or on the news - and say, "Look, the biologist is a boy. How unusual! Since most scientists are female, as you know." My girls have now accepted this as fact. I know I'm wrong - but I'm hoping that women will catch up in these careers, by the time my kids have to make decisions for their future.

I buy from the boys' section. My eldest daughter was gifted an electric circuit kit for Christmas. My youngest's pajamas say 'Dream big, little man'; they're in a space-and-rocket theme. The kid happens to love anything to do with planets and moons, and she loves these darn pajamas so much, it's tough to get her out of them! The fact that they're from the boys' section is secondary - as long as the clothes, books and toys are interesting and suit their personalities.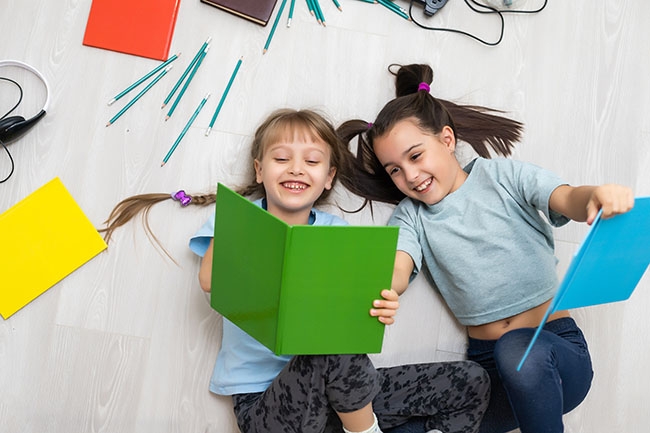 Girls reading together (file picture, not the author's daughters)
I swap the genders of all book characters. I started this when they were babies. Not only do most characters now turn out the be female (funnily enough), but they also showcase diverse personality traits. The female characters now fearlessly climb trees, get into fights, and showcase leadership. FYI, my eldest is now catching on and she was not amused (Harriet Potter anyone?).

I ask about math. When I check in with my kid about her school day, I always ask if she did any science or math and if so, if she can tell me about them. This helps her gather her thoughts about what she's learned and tells her I think it's important. I also always showcase excitement about science, like when she did an experiment about the salinity of seawater at school last Wednesday.

We do a finance & science chat in the weekend. I sit my eldest down with a cup of tea and the encyclopedia, and we talk about something that interests her. It could be anything. Last weekend, we read a few pages about astronauts and watched about 10 minutes of live ISS footage on YouTube. I've also taught her about taxes, making a budget and why we avoid buying on credit.
Also read, Choosing to challenge the tropes about women and money