Does providing microcredit to 'unbanked' entrepreneurs pay off?
Providing microcredit to support small businesses has been lauded as a means to help people in developing countries get out of poverty. It has also been criticized for making matters worse. Do small loans to 'unbanked' entrepreneurs pay off?
I certainly not a high-flying international financier. Still, I am happy to have made by 80th loan recently to Kiva, an online crowdfunding platform that supports microcredit initiatives for low-income entrepreneurs around the world. 
My Kiva membership was an unexpected birthday present in 2012. Since then, I have deposited $726 dollars through Kiva to support 80 loans, totaling $2,175, in 34 countries.
My $25 contributions generally go towards backstopping small loans of a few hundred dollars that have been borrowed by women to grow one-person retail or service businesses or farms. Much of my contributions are funded by repayments on previous loans.
My first contribution went to support a woman who was setting up a wedding video business in a Middle Eastern country. Number 80 is not so micro: $50,000 to help purchase solar home systems that will be financed for more than a thousand households in Madagascar. 
I chose to back this loan for several reasons: the project is supported by a network of women. Secondly, the initiative provides solar energy to replace other more polluting forms of power generation in a low-income country. And thirdly, such low-income communities where many people are 'unbanked' (without access to commercial finance) are taking the brunt of the negative economic effects of the COVID-19 pandemic.
"This loan is special because it catalyzes access to affordable solar-powered products for lower-income households across Africa and Asia."
Kiva
How does it work? 
There are several large microcredit platforms. Kiva works both through field partners and issues loans directly. Generally, a borrower applies for a loan from a field partner. The loan then undergoes an underwriting and approval process before being disbursed to the borrower. Then the loan is posted on Kiva and is crowdfunded in increments of $25 or more. The borrower subsequently starts repaying the loan according to an agreed schedule and lenders can either withdraw the funds or use them to fund new loans.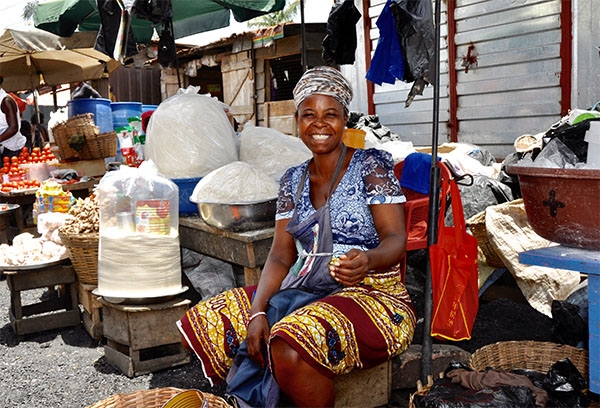 It is estimated that over 1.7 billion adults, roughly a third of the world's adult population, have no access to the formal financial sector. One of the consequences of being 'unbanked' is an inability to source capital to start, support or grow a small business. 
Kiva is one of the initiatives seeking to address this problem. The platform's lenders crowdfund an average of $2.5 million in loans each week and a total of $1.6 billion has been lent, mainly to 'unbanked' and 'underbanked' people, in 77 countries. Over 80% of the borrowers are women.
Kiva says creates "a unique, renewable pool of funds that is reshaping access to financial services around the world."
A long history of small loans 
Small, informal loans are probably as old as business itself. The history of modern microlending dates back to Bangladesh in the 1970s. Bangladeshi economist Muhammad Yunus started promoting the idea of lifting people out of poverty through the collective power of small loans to fund and grow small businesses in developing areas.
Yunus – dubbed the Banker to the Poor - and Grameen Bank (GB or the Village Bank), which he founded in 1983 were jointly awarded a Nobel Peace Prize in 2006. The award recognized their work to their work to "create economic and social development from below". Microcredit was viewed to allow people to unlock their inner entrepreneur and stimulating development despite coming from a poor background.
Microcredit is still going strong today. GB reported that as of January 2021 it had 9.38 million members, 97 percent of whom were women. GB had over 2,500 branches providing services to over 81,00 villages, equating to more than 90% of all the villages in Bangladesh. Many other organizations are active in microlending around the globe, and they have plenty of potential customers, given the huge numbers of people who are unbanked. 
Criticism 
Microcredit has nevertheless faced significant criticism. One charge is that here is little analytical empirical research to show that microcredit had delivered on its promise to lift people out of poverty. For instance, Innovation for Poverty Action (IPA) reported in 2015 that six studies from four continents indicated some benefits but not that it was a viable tool to lessen poverty. The idea that microloans support the empowerment of women was also called into question. A study from Morocco found that microcredit loans did not increase the likelihood of children being enrolled in school or show significant progress relating to women's empowerment.
"These loans do help, but the changes are not transformative, certainly not transformative enough to justify charitable donations to the standard microcredit model," said Economist Esther Duflo, a co-author of the India and Morocco, studies. 
More positively, the reports did not find systematic evidence to support the often-voiced criticism that microcredit plunges borrowers into debt. 
The real value
I have followed the debate about microcredit and listened to the arguments on both sides. I accept that microcredit on its own is not sufficient to end poverty. Also, institutions that provide microcredit must be regulated and monitored carefully to ensure that interest rates and the borrowing conditions are not too burdensome. 
That said, I am convinced my those at the forefront of the microcredit movement who say that small loans make a real difference to borrowers' lives. It is a reliable source of capital that helps people, who are on low incomes and who are often 'unbanked', to start a business. Microcredit offers a type of freedom and new options that many people, mostly women, were previously denied. 
The case can best be made by one of the borrowers supported by Kiva's crowdfunding. Lindiwe, 22, set up a homemade juice business in Zimbabwe, partly to provide affordable drinks to thirsty mineworkers. She was able to grow the business with the support of a $500 loan and business training provided by Kiva's local partner, Camfed. "The loan boosted this business up. I used to make only 20 liters a week, only 20!" Lindiwe says. "Now I've expanded to 200 liters a week."
Through Camfed's unique lending model, Lindiwe - who has established three businesses - doesn't pay any interest on her loan, but instead volunteers as a mentor and teacher for other young women in her community. "Helping girls to stay in school, helping them to achieve what they want in life, that is my favorite part," she says.