Aegon recognized for ESG best practice in new Amsterdam exchange index
Aegon has been recognized for its best practices in the AEX ESG Index, a new Environmental, Social, and Governance index launched by the Euronext Amsterdam stock exchange.

The AEX ESG Index identifies the 25 companies that demonstrate the best Environmental, Social and Governance (ESG) practices from the 50 constituents of the AEX and AMX indices. Pan-European stock exchange group Euronext says it is responding to the growing demand for sustainable investment tools from investors and the wider market. 
Aegon's group-wide ESG targets
Aegon's shares are listed on the AEX in Amsterdam and the NYSE in New York. Inclusion in the AEX ESG Index comes as Aegon is stepping up its approach to sustainability. Presenting Aegon's 1Q 2022 results on May 12, CEO Lard Friese emphasized that the company's responsibility extended well beyond achieving attractive financial returns.
He said, "In line with our purpose of helping people live their best lives, we actively contribute to help protect our environment and society. We must take action to create real impact on the economy, the environment and society through our investments and our operations."
In 2021, Aegon identified two sustainability priority themes: Climate Change and Inclusion & Diversity. In that context Aegon has embarked on a journey to transition Aegon's investment portfolio to net-zero emissions by 2050. Aegon has established a Global Sustainability Board, a Global Corporate Sustainability Team, and Local Sustainability Boards in each of Aegon's markets to strengthen and accelerate its sustainability ambitions.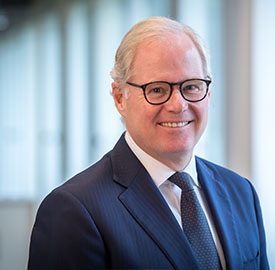 "Our progress is increasingly recognized by our external stakeholders, as evidenced by the Responsible Investor of the Year award Aegon Asset Management received at the Insurance Asset Risk Awards 2022."
Lard Friese, CEO of Aegon
During the first quarter of 2022 Transamerica, Aegon's business in the US, introduced an innovative retirement plan that offers participants access to ESG investments. Aegon UK added three ESG funds to the investment options available to customers. Aegon Asset Management and Aegon UK had earlier partnered with the Global Ethical Finance Initiative (GEFI) to introduce the new Aegon Global Sustainable Sovereign Bond Fund at COP26.
Aegon is also progressing on its Inclusion and Diversity approach. Aegon the Netherlands, for instance, was the first Dutch corporate to launch an investigation into its own "glass ceiling" to identify the factors that prevent more women rising to senior positions.
AEX ESG Index
The index selection is based on a starting universe of the 50 companies listed on the AEX or the AMX for Amsterdam midcaps. Companies are excluded based on Sustainalytics, with the 25 best-scoring companies in relation to ESG Risk rating appears in the AEX ESG Index.
Details on the composition and methodology for the AEX ESG are available here
This is the fourth ESG Index launched by Euronext as alternatives for national blue-chip indices. The others are CAC 40 ESG Index (France), MIB ESG Index (Italy) and OBX ESG Index (Norway).
Our group-wide approach to Sustainability
Our businesses and responsible investment