We show support for the American Heart Association at NYSE's 99th Annual Tree Lighting celebrations
November 30, 2022, 18:44 CET
We know the importance of health in helping people live their best lives. It is an honor therefore to join other companies in highlighting the amazing work of the American Heart Association during the New York Stock Exchange's 99th Annual Tree Lighting event.

As part of its annual Global Giving Campaign, the NYSE invites companies listed on the exchange to raise awareness for an important charitable organization they support.Each company and charitable organization is honored with commemorative custom ornaments that hangs on the holiday trees in front of the NYSE entrance until the end of the year.
More than 200 listed companies are taking part this year and have been recognized with a commemorative custom ornament. The tree lighting took place at the NYSE on Wall Street on November 30, 2022.
Our participation via the Aegon Transamerica Foundation reflects our Dutch-American connections and our listings in both New York and Amsterdam. The Aegon Transamerica Foundation was created in 1994 to reflect that our responsibilities extend beyond our corporate walls. Through a combination of financial grants and the volunteer commitment of employees, the foundation supports nonprofit organizations focused on the education, health, and well-being of the communities where we live and work.
This year the Aegon Transamerica Foundation is proud to support the American Heart Association and its mission to be a relentless force for a world of longer, healthier lives.
The message adds:
"We believe that having access to education and healthy living resources can help individuals enhance their wellbeing and live life to the fullest."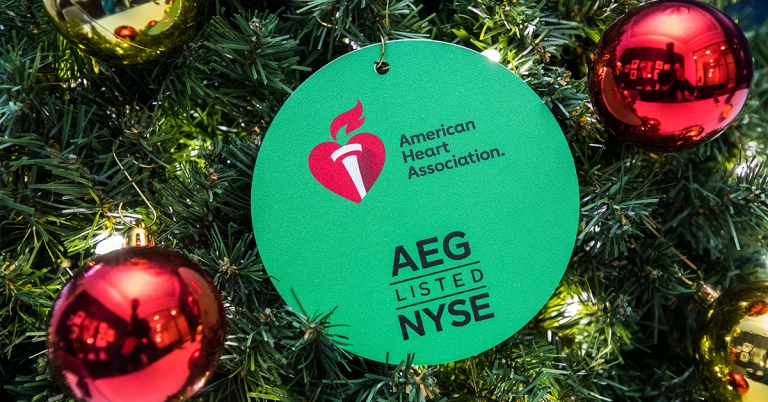 Click here to read more about the 99th Annual Tree Lighting and Global Giving campaign messages
.