Stretching our understanding of positive longevity
October 05, 2023, 7:00 CEST
People are living for longer, and Aegon sees that as an opportunity. So, what do we need to do to ensure that people can make the most of their extended time on the planet?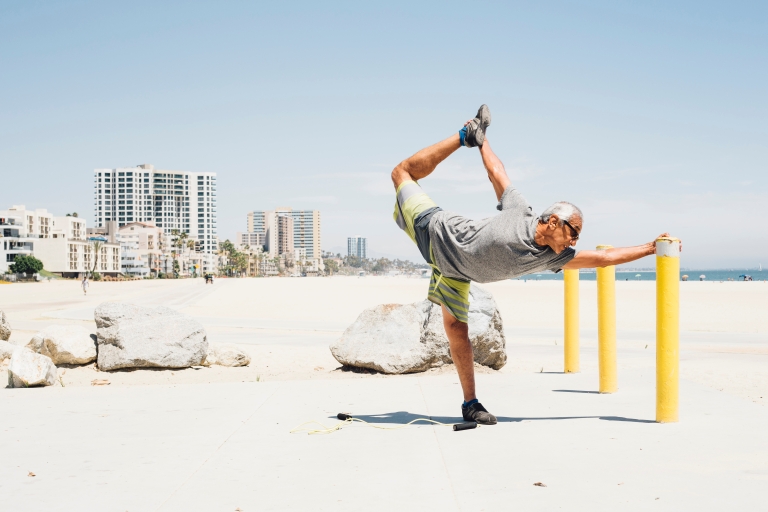 Life expectancy is rising dramatically, with projections of over a million people aged 100+ in the US alone by 2050. Broadly, the same holds true for the UK, Germany, France, Italy, and Canada. In Japan, 50% of babies born in 2007 can expect to live to a staggering 107.
Traditionally, insurers and pension providers viewed ageing as a financial risk to be managed within a three-stage life framework: education, work, and retirement. But at Aegon, we see longevity, aging, and changing life patterns as an opportunity for our customers, our employees, and society. And we want to support as many people as possible in building the financial means to explore the possibilities and challenges for a long and varied life. 
We were inspired by "The 100-year life" by Lynda Gratton and Andrew Scott. Their book highlights the need to rethink life structures due to longer life expectancies, evolving pension systems, and flexible careers. We have taken these points to heart and translated them into our purpose of Helping people live their best lives. 
We are aware that this is a radical departure within our industry, and we have embarked on a journey of discovery on how best to bring positive longevity to life. 
Bespoke research
To gain a better understanding of how longevity interacts with various aspects of people's lives, Aegon undertook various research projects. One piece of research in 2023 was carried out by Glocalities for Aegon in five of our markets around the world and incorporates findings from an MIT AgeLab report in the US. The research highlights that respondents often underestimate their life expectancy. In China, in contrast, personal estimates were higher than the UN's calculations.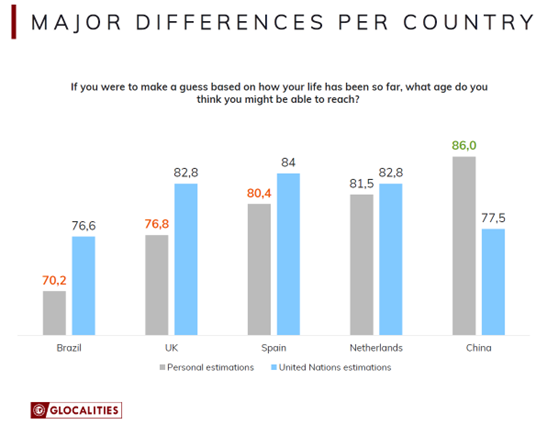 The difference are important, because people need to have a better understanding of how long they are likely going to live, what motivates them to get the most out of their extended time. It is vital in building the right financial foundations to support what for many will be a multistage life. 
The same research by Glocalities shows that many people also have a positive outlook on living for longer, particularly those who are older and who have their finances in order.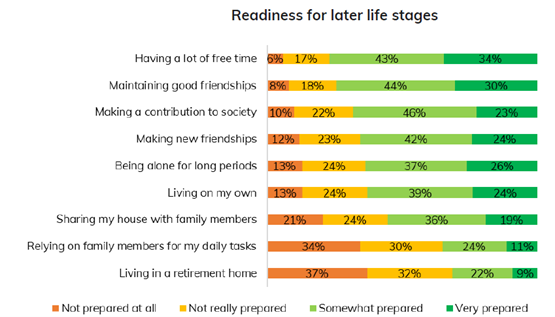 Another research project carried by Aegon UK — The Second 50: Navigating a multi-stage life — looked at the consequences of living longer and how this is changing the traditional three stages of life, education, work and retirement. A sizeable number of respondents saw working later in life as a positive thing: 57% said the main reason they would continue working was due to their enjoyment of working life, while 54% said it was to keep their mind sharp. This shone an interesting light on how people in the UK perceive the changing structures of their lives.
US research
Getting the most out of positive longevity will not happen overnight and does require significant planning and action, as evidenced by the research carried out by the Transamerica Center for Retirement Studies (TCRS)*. 
As part of TCRS' 23rd Annual Retirement Survey, a new study compares the retirement preparations and expectations of age 50+ workers with the experiences of retirees. The survey examines their visions of aging and retirement, when and how retirement happens, life in retirement, and their finances. It offers recommendations for pre-retirees and retirees, employers, and policymakers. 
The report is packed with insights including these common pitfalls that could be avoided through more rigorous planning: 
Being overly optimistic about retirement expectations. 

Overlooking life expectancy and how it relates to time in retirement 

Claiming Social Security benefits too early. 

Not seeking assistance from a professional financial advisor, if needed. 
The report provides concrete suggestions on how to address each of these issues. Positive longevity is something we all need to embrace and build together. Overall, our company believes that living one's best life can be experienced through three distinct, yet interconnected, concepts: 
Having our finances in order and relieving stress around money are important conditions for living our best life. Our businesses provide the services and tools to enable their customers to get and maintain a grip on their finances and achieve peace of mind during the different stages of a longer life. 

Our mental and physical wellbeing allows us to remain happy, fulfilled, motivated, and optimistic as we move through the different stages of life. Via the products and services offered by our businesses, we want to help customers and other stakeholders enrich their wellbeing so they can unlock the opportunities offered by a longer life. 

Experiencing a complex, multi-stage life requires us to draw on different skillsets and networks at different times. The products and services our businesses offer help to equip people for future opportunities and challenges by giving them the financial foundations to explore their talents and develop their potential.
There is a lot more to be said about positive longevity, how people want to use their extended time and the practical steps that individuals, companies, government, and wider society can take to make these dreams a reality. We will be publishing more about positive longevity in coming months, and you can join the #positivelongevity discussion via our LinkedIn channel.