The fifth annual Aegon Retirement Readiness Survey finds only slight improvements globally in retirement preparedness since Aegon carried out its first global survey in 2012.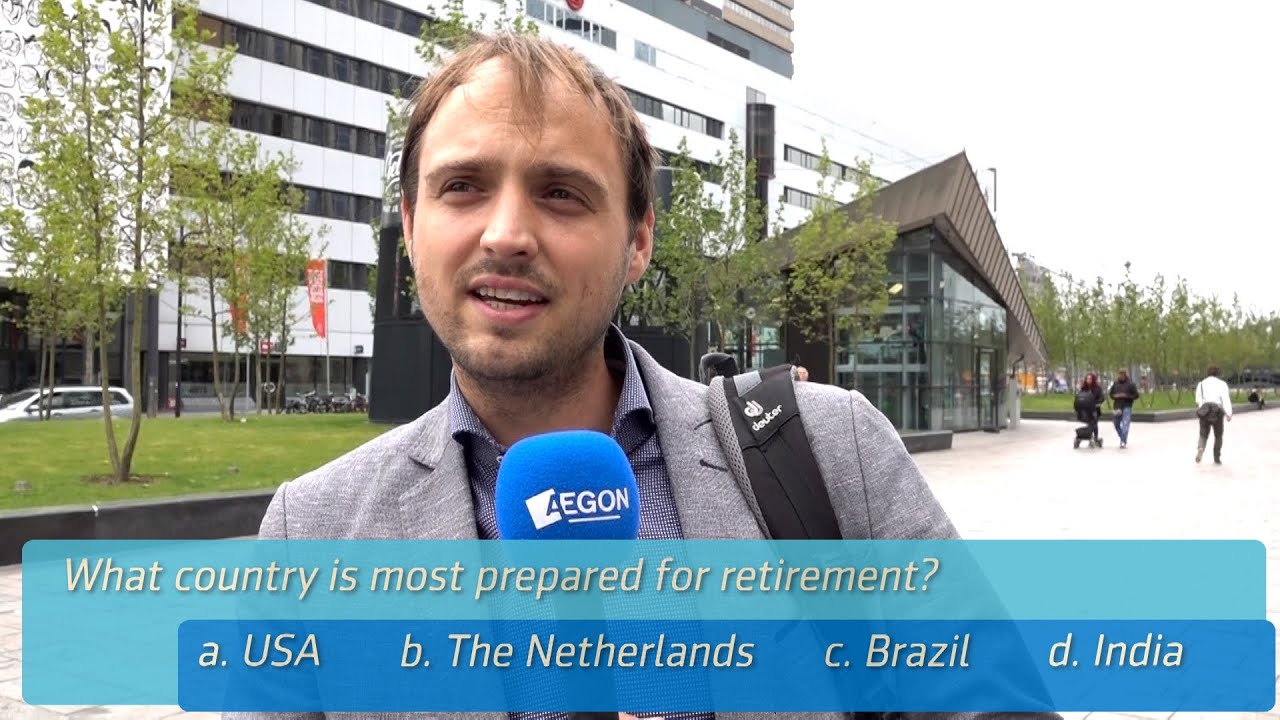 Video
Follow our series of 1-minute videos that discover how much the general public truly know about preparing for retirement.
Improvements in planning and saving have been offset by decreases in feelings of personal responsibility related to providing sufficient income in retirement. Moreover, around the world, many workers are heavily reliant on government benefits and are not saving enough to adequately fund their retirement income needs.

Inadequate attention is being given to address the costs and implications of increased life expectancy. Fundamental changes are needed to for people to achieve their retirement aspirations and to support retirement systems that are affordable, inclusive, and equitable. Governments, employers, and individuals must continue to expand upon actions that are proven effective while innovating new solutions for the future.
Key findings
The Aegon Retirement Readiness Index (ARRI) measures retirement preparedness on a scale from 1 to 10 with scores of 8 and higher considered to be high retirement readiness, scores of 6 to 7.9 as medium, and less than 6 as low.

The ARRI is based on survey responses to six questions related to personal responsibility, awareness, financial understanding, retirement planning, financial preparations, and income replacement.

Since 2012, the ARRI has increased - but unevenly - across countries and progress is slow.
In the nine original countries where Aegon has been measuring retirement readiness since 2012, the ARRI increased from a score of 5.2 to 5.5 in 2016. This increase has been largely driven by positive movements in people's feelings about planning and saving, yet it should be noted that this increase has been offset by a decline in people's feelings of personal responsibility for providing sufficient income in retirement.
Countries such as the United Kingdom and the United States have made the greatest progress in retirement readiness since 2012. This is no coincidence. The presence of well-developed third pillar pensions, in the shape of workplace defined contribution plans such as 401(k) plans in the United States, means that people have greater personal ownership over their retirement plans.
Since last year, the ARRI has dropped slightly, a result that is largely attributable to the uncertainty in China which has experienced a significant decline in its ARRI score since 2015.
People are living longer than ever which makes the cost of funding retirement more expensive for governments, employers, and individuals. Solving this equation for retirement security must be recognized as a shared responsibility. No single entity can solve it on its own.
Globally, people expect almost half of their retirement income (46 percent) will come from social security or other government retirement benefits programs; this is in spite of many governments' efforts to limit the value of future benefits.
When asked what steps governments should take to address rising costs of social security, globally, 31 percent believe that government should increase overall funding for social security through raising taxes, without having to reduce the value of individual payments; 15 percent feel that the government should reduce the overall cost by reducing benefits, without having to increase taxes; and 27 percent feel that the government should take a balanced approach. (Note: excludes survey respondents from India.)
However, people lack an appetite for raising the retirement age to offset the cost of living longer; 39 percent of respondents feel that the retirement age should stay the same compared to 20 percent who feel it should increase with increases in life expectancy.
Saving for retirement is a universal financial need. It is clear that getting into the habit of saving and consistently saving over time is critical for achieving retirement readiness. Many people struggle to get started. Many only save from time-to-time. Savings habits can change over time.

The survey findings illustrate the importance of habitual saving and opportunities that can nudge or inspire non-savers to start saving.


Thirty-eight percent of workers describe themselves as habitual savers (those who say they are always saving for retirement).
Habitual savers are seven times more likely to achieve a high ARRI score than the non-savers (37 percent compared to five percent).
The reasons people start saving for retirement fall into two broad categories: "life stage" (47 percent)and "employment-related" (39 percent).
Milestone birthdays and work-related factors may provide the nudges for people to become habitual savers.
Experience from around the world shows that providing workers with access to workplace retirement saving plans is a significant factor in achieving retirement readiness. Bringing people into the retirement savings net is crucial for building a more inclusive retirement system which serves the needs of all future retirees.
The workplace plays an important role in facilitating retirement savings, yet the survey found that only 41 percent of workers globally are offered a retirement plan with employer contributions.
Automatically enrolling workers into a retirement savings plan can help translate good intentions into actual saving behavior and finds widespread appeal; 65 percent of workers find the idea of automatic enrollment based on a contribution level of six percent of annual salary to be very or somewhat appealing. Vulnerable groups also find this appealing: women, 64 percent and younger workers aged between 20 and 29 years, 67 percent.
Enabling and inspiring habitual saving is a key part of the retirement solution. To make this a reality, the survey finds that future retirees must take greater responsibility for planning their own retirement and that they need better information and educational tools. Improvements in retirement literacy are required for people to make better long-term decisions and wisely exercise their personal responsibility.
Currently, many workers are neglecting to make any kind of financial plan for retirement. Among those who are making financial plans, a large percentage are making poor choices with their retirement savings. The need for better retirement planning, guidance and advice is clear.


Workers with a retirement strategy are more realistic in preparing for retirement and achieve a higher ARRI score than those without a strategy, yet 38 percent globally do not have a retirement plan. Among vulnerable groups, the proportion of those without a plan increases to 42 percent among women and 49 percent of those on low incomes.
Financial backup plans that help people deal with the unexpected are largely absent. More than half of people with such plans (58 percent) say that their savings are included in their backup plans. People overlook the benefits of insurance products as more cost-effective means of protecting their health and income.
Individuals need help and advice when it comes to planning for retirement and, amongst other options, many turn to friends and family who may not be the most expert source of information.
The survey findings reveal a widespread reliance on savings accounts as a possible route to retirement income. With interest rates expected to remain low in many countries, there is a need to guide people toward better asset allocation decisions both in saving for retirement and the decumulation phase.
People expect to live for 20 years in full retirement, but the reality is that retirement may often be much longer.

Increases in longevity may dictate individuals needing to work longer in order to adequately fund their retirement. For some, retirement may involve shifting from full-time to part-time work. For others, it may involve working in a different capacity or pursuing an encore career.

The very concept of a retirement in which people stop working altogether could soon become a thing of the past. However, few employers have updated their employment practices to accommodate flexible retirement.


The average age at which workers expect to retire in the survey's original nine countries has declined slightly from age 65.7 years to age 65.0 years since 2012, and is highly correlated with public policy relating to the age at which government retirement benefits are available.
Many workers are flexible about staying in work beyond normal retirement age. Of those not fully retired who envision working in retirement, 57 percent want to do so to keep active/keep their brain alert, 37 percent want to do so because they enjoy their work, and 32 percent are doing so due to general concerns about retirement income and savings.
Employers are falling short in accommodating workers in extending their working lives and transitioning into retirement. Fifty-eight percent of workers find phased retirement to be a very or extremely important occupational benefit, yet only 28 percent say that it is offered to them.
Maintaining good health as long as possible is essential to achieving many of the things people aspire to do in retirement.

Staying vital enables people approaching retirement to make choices to continue working in some capacity as a way of staying active and deferring the time when they start to draw down on their retirement savings.

Health risks often hide beneath the surface; few of us acknowledge that they are even there, but they can have major financial impacts when they do emerge. Managing healthcare costs is an increasing priority for individuals and governments as people age.

Data from the United States Administration on Aging shows that 69 percent of those who live to see their 90th birthday will have a disability. In contrast to this official assessment, the health risks associated with old age are currently being downplayed among survey respondents globally. Over half (52 percent) remain optimistic about their health in retirement. Just 20 percent are pessimistic.
Recommendations
This report highlights possible solutions of expanding access to workplace retirement benefits, implementing helpful nudges to save, encouraging habitual saving, offering planning and investment guidance, and facilitating flexible options for transitioning into retirement – all with a vision of active living and healthy aging.
Employers should be encouraged to set up workplace retirement savings plans.

Policymakers should work to increase incentives to employers and remove barriers to setting up plans and opening them to all workers.

Workers should be encouraged to save on a consistent basis through payroll deduction. Incentives to participation, such as employer or government matching contributions, will help draw attention to the benefits of deferring a portion of salary into an employer-sponsored retirement plan. Incentives, however, may not by themselves be enough to change behavior.

Employers should provide for workers to be automatically enrolled into an employer plan. Automatic enrollment harnesses the power of inertia to start workers on a consistent long-term savings program
Employers and workers should agree on triggers for automatic increased savings by payroll deduction (auto-escalation).

Depending on when a worker started saving consistently and how long they have before retirement, the automatic enrollment default rate may not be adequate to provide sufficient retirement income.

Increases in the amount people save can be made automatically at predetermined times, such as pay raises, or upon attaining a certain age. Savings increases can also be tied to the ending of, or decrease in, significant financial obligations, such as student loan debt, a home mortgage or dependent care obligations.

Employer-sponsored retirement savings plans should be portable so that when workers change jobs they can continue to save for retirement with their next employer and consider saving at the same or higher rate at which they had been saving.
Employers and governments should continue to promote financial literacy and raise awareness, not only of the need to save for retirement, but also how to invest long-term savings, and the benefits of working longer.

Governments should consider engaging family and friends in their campaigns to help increase awareness of the benefits of establishing a retirement savings strategy, especially for those not covered by an employer sponsored retirement plan.

No age is too young or old to start. Parents can instill good savings habits in their children by teaching them how to budget and invest. Parents and adult children can begin to discuss topics that are typically sensitive, such as getting one's legal affairs in order, inheritance, caregiving, and other financial matters.
Individuals should create a retirement strategy to fund retirement and manage their retirement savings to last a lifetime.

A retirement strategy should be tailored to the individual's plans for retirement (e.g., travel, continued working, etc.), other possible sources of income in retirement, and the individual's health.

Individuals should take advantage of any professional financial advice or other tools in modeling their retirement. Online tools and robo advice can help individuals assess the amount they will need to save and how to invest their savings.

Ensure your retirement pot lasts a lifetime
Building up adequate retirement savings is one half of the solution. Individuals should also plan to manage their retirement savings during the decumulation phase to provide them an income for life that includes possible pension income and government benefits.

Lifetime income can be achieved through a guaranteed lifetime income product (annuity) or through a combination of other solutions and /or products, without any guarantees.

Plan-B
Individual retirement strategies should also include a backup plan to enable the individuals to pay for unexpected expenses and events. A wide range of insurance products including life, income or critical illness policies, for example, can provide a cost-effective way of helping individuals and their families in the event employment ends prior to expected retirement date because of an illness, disability or death.