Employers play a critical role in helping workers prepare for retirement. In fact, their influence extends far beyond the offering of retirement plans and financial benefits and includes the development of skills, education, and well-being.
This year's Aegon Retirement Readiness Survey, The New Social Contract: Age-Friendly Employers, not only explores whether employers are doing enough for their employees' financial security, it also examines how helping employees can become mutually beneficial.
The report provides recommendations for employers and serves to stimulate the much-needed societal debate on age-friendly workplaces and secure retirement. Amplified by the Covid-19 pandemic, the report's call-to-action is a direct response to key changes in the world - people are living longer, and the nature of work is undergoing fundamental changes, requiring a New Social Contract dealing with the future of work and retirement planning.
Global challenges
Retirement systems around the world are under severe strain. This is due to the pressures of people living longer (longevity), population aging, globalization, and evolving employment trends that are being acceleration by atomization and innovative technology. As a result, individuals are increasingly expected to take greater responsibility for funding their retirement. Many lack the means and ability to be successful.

The coronavirus pandemic and economic downturn are intensifying existing risks to retirement security — and creating an even greater urgency for a new social contract between governments, employers, individuals, and other stakeholders.
"Today, individuals are expected to save and invest for an increasing proportion of their retirement income. However, many people find themselves ill-equipped to do so and will likely face further financial pressures in the wake of COVID-19," says Mike Mansfield, Program Director for the Aegon Center for Longevity and Retirement. "Findings from this year's Retirement Readiness Report confirm that more support is needed for individuals to adequately harness their true savings potential to adequately prepare for their financial future."
Actionable recommendations
Age-friendly employers embody an inclusive, diverse, and multigenerational workforce and they foster an environment in which workers of all ages can succeed. The survey findings identify ways in which employers can and should support their employees to extend their working lives and financially prepare for retirement, including:
Cultivate an age-friendly workplace that recognizes the value and contributions of workers of all ages.
When asked about initiatives their employers have in place to encourage a multigenerational workplace: Only 32 percent of workers globally indicate their employer has an age-neutral workplace; 27 percent globally say their employer has a supportive work environment; and 25 percent globally say their employer has an inclusive culture.
Provide retirement, health, and welfare benefits — and design them with portability in mind so that workers can maintain them as their employment situation changes. Just over half of workers globally (52 percent) are offered a retirement plan by their employer. Fifty-eight percent of workers globally agree with the idea that a "job for life" is a thing of the past.
Only 17 percent of workers globally have a written retirement strategy —and 35 percent have a backup plan in the event they are unable to continue working before they reach their planned retirement age (43 percent).
Only 28 percent of workers globally could answer all the "Big Three" financial literacy questions developed by leading academic experts Drs. Annamaria Lusardi and Olivia Mitchell that test knowledge of compounding interest, inflation, and risk diversification.
When asked what health-related attitudes and behaviors apply to them, 59 percent of people globally indicate they eat healthfully, 58 percent avoid harmful behaviors, and 52 percent exercise regularly. More than eight in 10 workers are interested in one or more types of workplace wellness programs (86 percent global).
Globally, 50 percent of workers report having flexible working hours. Only 28 percent of workers indicate their employers offer pre-retirees the option to move from full-time to part-time work while phasing into retirement.
Almost three in four workers globally (74 percent) are offered one or more types of training to help them keep their skills current and to remain employable in the future. Twenty-four percent are reimbursed for continuing education.
Listen to the expert discussion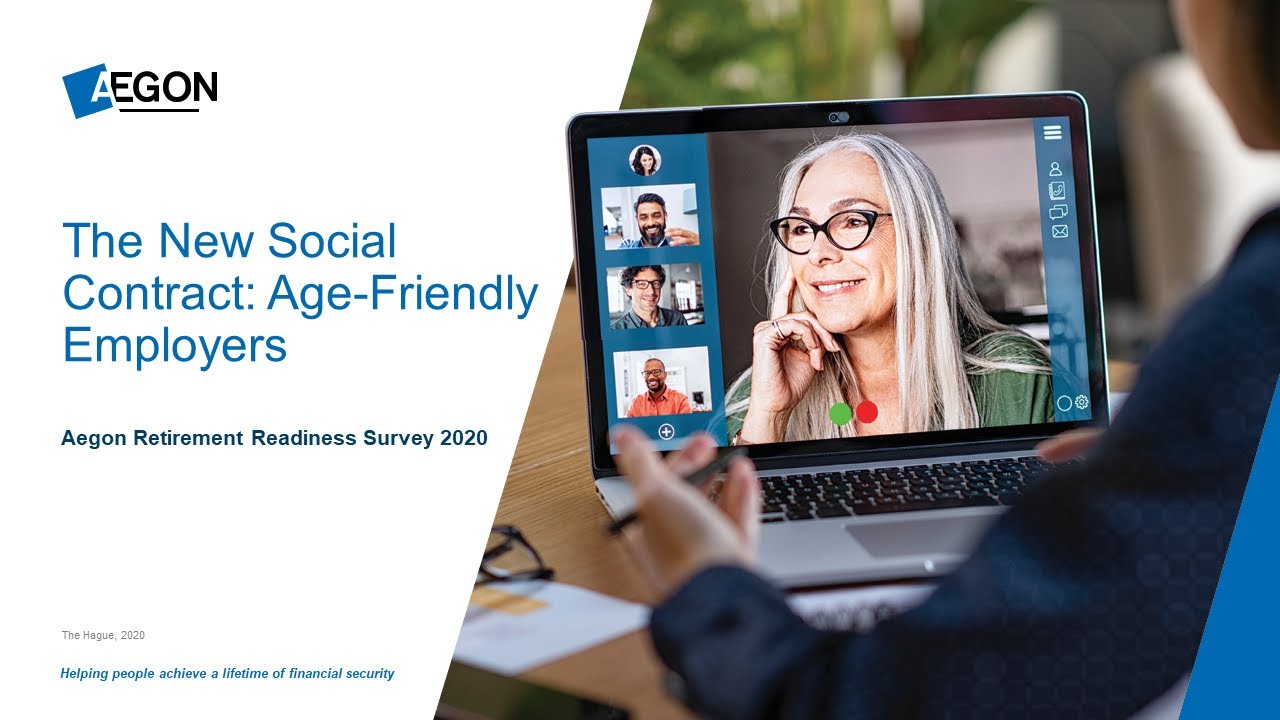 To mark the launch of the report, the report authors hosted a virtual roundtable discussion on the role employers can play. Moderator Mark Twigg, Executive Director of Cicero/AMO and Mike Mansfield, Program Director of the ACLR were joined by the following experts:
Debra Whitman, Executive Vice President and Chief Public Policy Officer at AARP
Professor Luiz Roberto Cunha, Economist, Professor and Dean of the Social Sciences Centre at PUC-Rio University
Catherine Collinson, CEO and president of nonprofit Transamerica Institute and Transamerica Center for Retirement Studies