As Aegon is a global company, we understand the importance of embedding inclusion and diversity in who we are and everything we do. We also know that allowing people to be their authentic self in the workplace stimulates innovation and positive energy!
By being open and inclusive, we reflect the customers we exist to serve, we enhance our knowledge, we attract and retain the best talent, and create a safe, productive and accepting work environment.
Our company-wide Statement on Inclusion & Diversity aims to create a productive and open working environment in which all employees are valued for their contribution and are able to realize their potential.
We actively protect our employees against discrimination and promote non-discrimination in the workplace, whether on grounds of race, disability, religious belief, sexual orientation, age or gender.
Like the wider world we serve, we are evolving, and we are happy to accept the responsibility we have as a global company to lead by example. This commitment goes to the very top of our organization and is echoed at every level.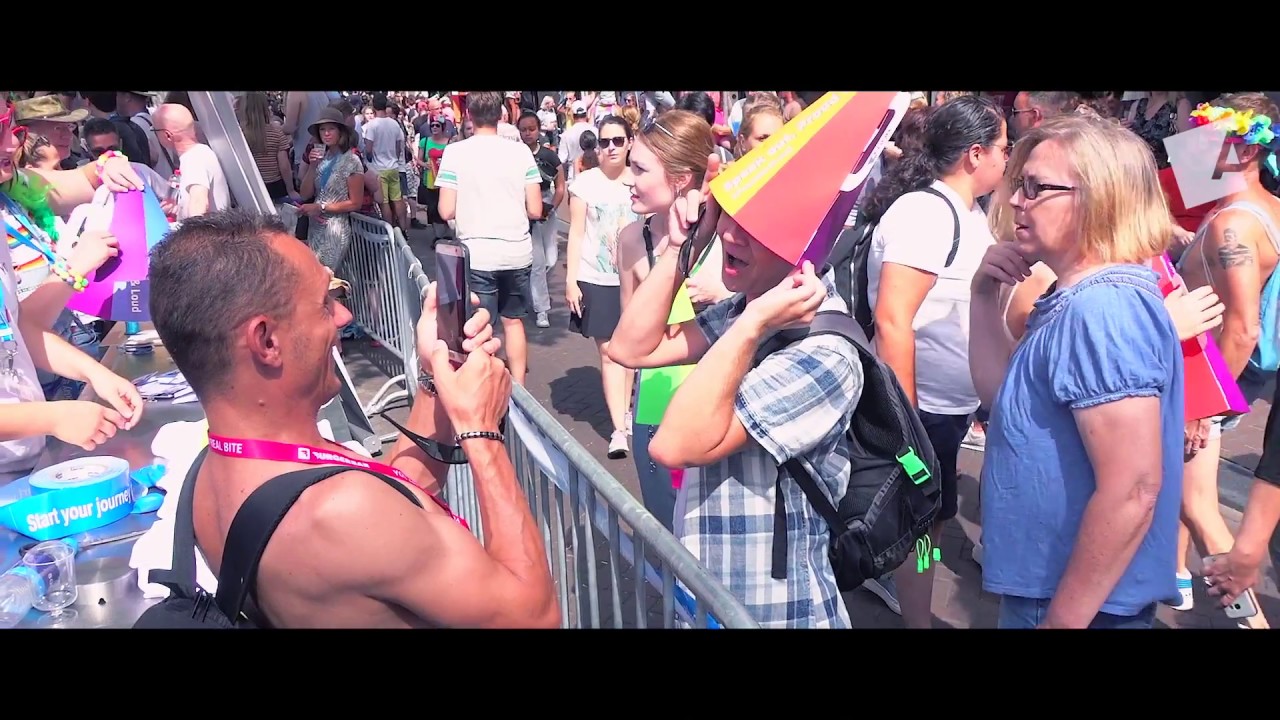 Aegon Pride
Check out the view from the Aegon terrace and a message from our CFO Matt Rider as over 500,000 people celebrated inclusion & diversity at Pride Amsterdam 2018.
One of our most active diversity communities is Aegon's global LGBT community. This is open to LGBT employees and colleagues who wish to show their support for the benefits diversity can bring to a company. The community has members from around the world, and regularly organizes local events to raise awareness about the importance of diversity in business.
Workplace Pride
In the Netherlands our Head Office is also a member of Workplace Pride. Workplace Pride is a not-for-profit umbrella foundation based in Amsterdam that strives for greater acceptance of Lesbian, Gay, Bisexual, and Transgender people in the workplace and in society. In the 2017 Workplace Pride Global Benchmark, Aegon scored above average in five out of six categories, including 100% for the engagement of our LGBT employee networks globally.
Marc van Weede, Aegon's Head of Global Strategy and Sustainability commented: "Joining Workplace Pride takes Aegon to a new level with its outreach to all of its diverse employees and clients, particularly those among the LGBT community.
"By making our support for LGBT inclusion in the workplace public in this way, our message is that Aegon is not just an inclusive place to work, but that we also strive to understand the needs of all of our employees and clients in today's constantly changing society."
Corporate Equality Index
Our subsidiary Transamerica, in the United States, also scored 100 out of 100 in the 2018 and 2019 Corporate Equality Index, placing it among the best places to Work for LGBT Employees.
The Human Rights Campaign (HRC) Foundation's Corporate Equality Index (CEI) is the national benchmarking tool on corporate policies and practices related to lesbian, gay, bisexual and transgender (LGBT) employees. The 2016 CEI rated a total of 1,027 businesses in the report.
Aegon is a signatory to the Talent to the Top initiative in the Netherlands, which aims to increase the number of women in senior management. In the United States, the company is a member of the Corridor Women Connect group, which helps develop leadership skills among female managers. In 2013, we joined Women in Financial Services, which seeks a better balance between men and women in the financial sector.


Among senior management, the proportion of women is just under a third. Women are under-represented on the company's Supervisory and Management Boards. We do, however, have a number of women in prominent positions within the company, including our Global Chief Risk Officer, our Global Head of Human Resources and the CEO of Aegon Asset Management.
When it comes to disability, local regulations make establishing a concrete number of disabled employees at Aegon difficult, however Aegon's local initiatives paint a very positive picture.

"Globally, we don't measure how many disabled employees we have, because that would be discrimination in itself. We take the best person for the job," says Head of Global HR, Carla Mahieu, adding that this includes people with physical disabilities, but also numerous employees with less obvious disabilities, such as visual impairment.
Specialist recruitment agency
Aegon has worked with Dutch recruitment company Onbegrensd Talent (Unlimited Talent) since 2012. The recruitment agency has around 3,000 disabled job seekers on its books.
In 2013, Arjan was the first Aegon employee to be recruited via Onbegrensd Talent. "I only have 20 percent vision," he explains. "You might not think it, but working with a computer is actually an advantage. I simply make everything larger on the screen. It's much quicker than putting all sorts of paper under a magnifying glass," he says.



This year, Sanja, who suffers from severe arthritis, was one of a number of new recruits. "My disability is immediately obvious. I walk strangely," she explains. "This already sets the tone during a job interview," she says, "You can almost hear the recruiters thinking, 'She'll need assistance and she's slow', but I've got a lot of other qualities."

During her interview with Aegon she explained that she can't sit for long periods of time. Aegon's response was: "That's no problem, our desks can be raised to standing height with the press of a button."

Training
Aegon businesses also regularly conduct training on diversity issues. In the United States, for example, Transamerica organizes training session for managers on integrating and improving the working environment for disabled employees.

At Aegon Sony Life, the company's joint venture in Japan, they've also taken this enthusiasm for inclusion out of the office. Groups of volunteers from the company are helping to map all the public bathrooms which are wheelchair friendly and suitable for people with special needs, into a Smartphone application with geo-location function.

Not only are the toilets mapped, but details about the facilities offered are also uploaded, such as if the bathrooms have support handles, if there is space for helpers to enter, and if emergency alarms are available.
Creating an enabling environment
Initiatives like this, which support inclusion, often fall 'beneath the radar' but are commonplace at Aegon. As Carla says: "Putting a number to the people in our organization with disabilities is not helpful, we'd rather work toward creating an enabling environment not only for our employees but in the communities we serve."
It's a view, Aegon CEO Alex Wynaendts shares: "I'm a strong believer that our company must reflect the society we serve, and that means being as inclusive and welcoming a place to work as possible."